The Impact of a Citizens Friendship: Kara Falcone and Daniella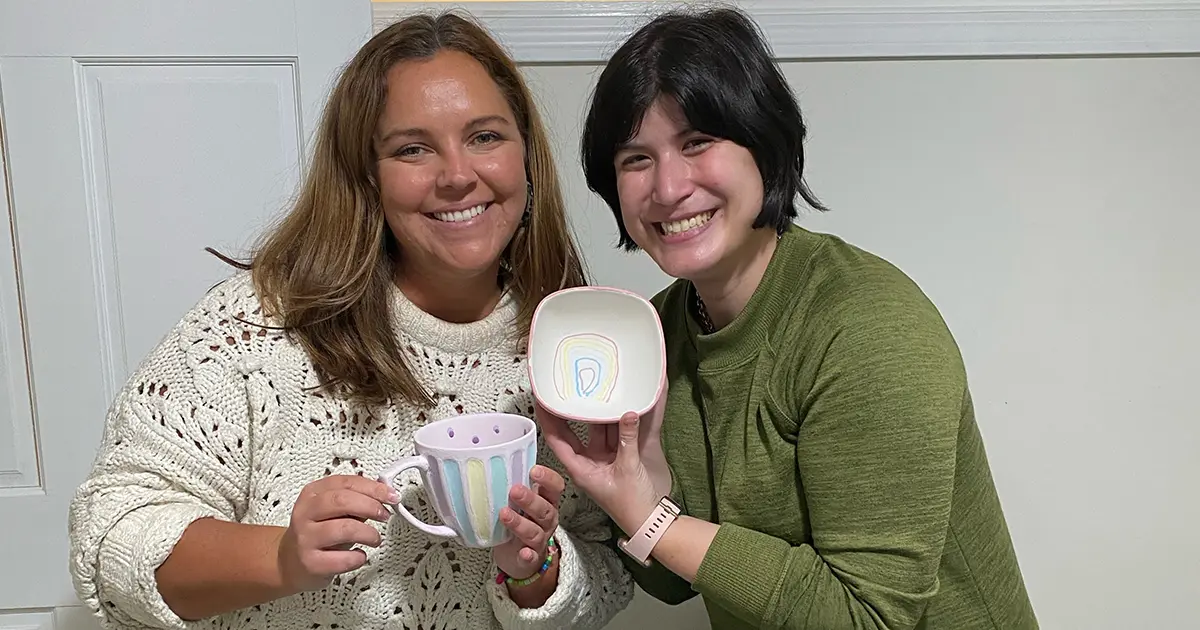 "Our friendship is not any different than any other friendship, and everyone deserves a friend like Daniella." – Kara Falcone
When Kara Falcone was 12 years old, she entered Duxbury Middle School ready to make a difference. Middle school is a pivotal time in someone's life, as students start to make choices that will shape them into the person they grow to be.
For Kara, the choices she made shaped her into an athlete, an academic, and an advocate. She chose to play a variety of sports, focus on her studies, and be friends with a group of individuals that are oftentimes marginalized.
Inspired by her neighbor who had a disability, Kara joined Best Buddies Middle Schools, a special program that creates 1:1 friendships to help foster an inclusive school culture for students early in their development.
Unbeknownst to her, joining Best Buddies Middle Schools was just the first step in her lifelong Best Buddies journey.
Kara's involvement with Best Buddies continued throughout high school and into adulthood, each year becoming less of a hobby and more of a passion until it eventually developed into her career. Today, Kara serves as the State Director of Best Buddies Massachusetts and Rhode Island (MARI).
In addition to being the State Director, Kara is also part of the Best Buddies Citizens Program. The Citizens Program pairs an adult with an intellectual and developmental disability (IDD) in a one-to-one friendship with an adult without IDD from their local community. These two adults then develop a mutually enriching friendship, experience life together, and support each other when it's needed most.
Through Citizens, Kara met her buddy, Daniella.
Two years ago, Daniella got involved with Best Buddies through the jobs program, which helped her secure a job at Sanofi. The Jobs Program was such a successful experience for her that she wanted to learn more about what Best Buddies had to offer and look for more ways to get involved.
Shortly after learning about the Citizens program, Daniella was matched with Kara, and it was love at first Zoom meeting! Kara says that "Daniella's bubbly personality, infectious energy, and enthusiasm for life struck me right away." In the world we live in today, those exuberant qualities that Daniella and many other people with IDD have, are often overlooked because of their disability.
Citizens, and all Best Buddies programs help people see others beyond a disability and appreciate everyone for all that they are. "One thing about my friendship is that I feel a sense of connection and appreciation for my strengths and difficulties," says Daniella.
When you are part of the Citizens program, you have the opportunity to make connections and long-lasting friendships like Kara and Daniella's.
Together, Kara and Daniella enjoy going to musicals, painting pottery, going for walks, and having ice cream and dinner dates together. In between hangouts, they love chatting on the phone to keep each other updated, give advice, and plan their next adventure.
"I think everyone should get involved in the Best Buddies Citizens program! This will help our society to be more inclusive in general, and it is the most wonderful, loving, day-brightening group of people I have ever been involved with," Kara said.
Best Buddies Citizens helps individuals become more included in our community and build a diverse connection to friendship. Through learning to see life from a new perspective, people become more understanding, patient, and accepting of others.
When asked what Best Buddies Citizens means to Daniella, she responded by saying, "Citizens means feeling included and being part of a community where you feel like you belong."
Making the choice to be a friend goes a long way. If you or someone you know is interested in making a difference in someone's life, apply to the Citizens program today at www.bestbuddies.org/join, or email JackPerry@bestbuddies.org.