Corporate Call To Action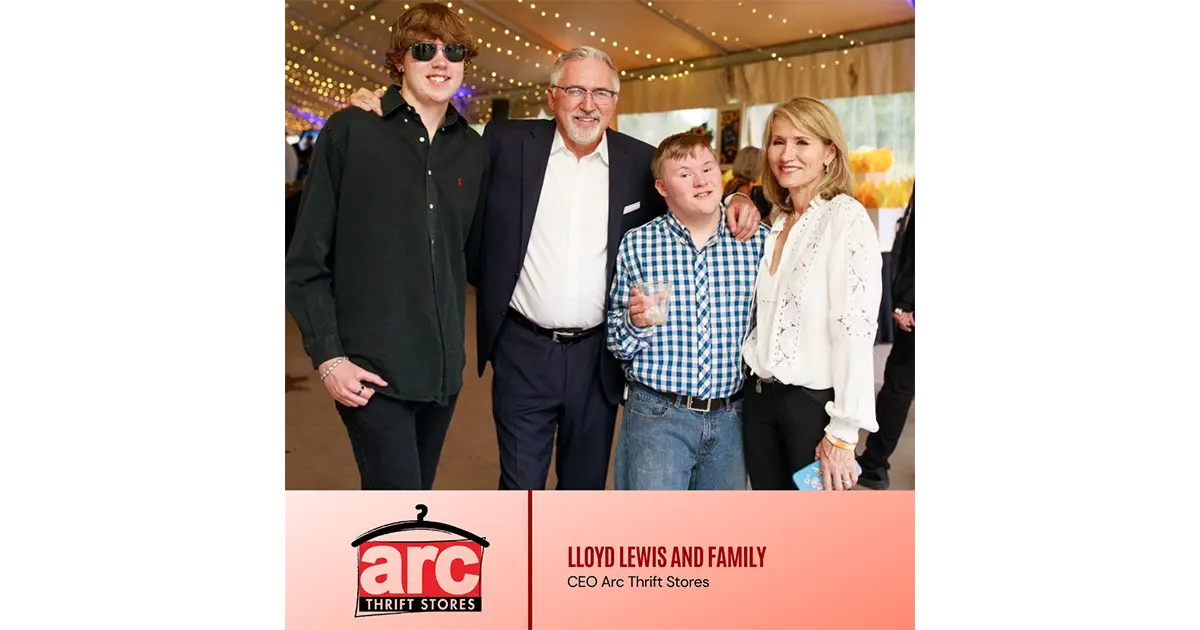 Article written by: Lloyd Lewis, President and CEO of arc Thrift Stores and board member at Best Buddies
When it comes to Diversity, Equity, and Inclusion (DEI) we most often think about being mindful of not discriminating against someone based on race, gender, and sexual orientation. It is a topic that we hear talked about frequently on the national news, in our conference rooms, and at our board meetings. It is an important topic and signals an important shift in our culture and is well overdue. But we're missing something.
What's missing is that we don't think of people with intellectual and developmental disabilities (IDD) when we think of DEI. We may think of people with physical disabilities — someone in a wheelchair, someone with epilepsy, someone who is missing a limb, someone with severe arthritis or cerebral palsy, for example — because we can see the disability and easily understand it. But we don't always think of people with intellectual and developmental disabilities. This lack of inclusivity is especially true in the workplace. But, in reality, it is a significant issue, one that should be on the minds of every CEO, COO, director, hiring manager, and HR professional in the country and part of every business' hiring policies, across every industry.
Let's put it in perspective.
Currently, there are over 6 million people in the U.S. with IDD (200 million globally). There is also an 80% unemployment rate among this population. That number is unacceptable; especially when you consider that this country is facing a very significant hiring crisis. With 11 million jobs open nationally that are proving difficult to fill, why can't some of them be filled by someone with IDD?
To find the answer to this question, I asked numerous CEOs from around the country and found that the reason is based on several things: one, hiring someone with IDD just never occurred to them; two, they don't think they would have any work for someone with a disability to do; three, accommodations are too expensive and complicated; four, they think having IDD employees would be disruptive; and five, they are simply fearful of what they don't understand or are unfamiliar with.
All of these are misconceptions. In my experience, there is always a job or a task that a person with IDD is perfectly suited for; accommodations are actually inexpensive and quite easy to implement; and people with IDD are some of the hardest working, friendliest, accommodating, and most dedicated team members you could ever hope to have.
The fact is that hiring people with IDD is smart business. Data from Accenture found that businesses employing people with IDD have seen 28% higher revenue and are growing sales 2.9X faster and profits 4.1X faster than their peers.
As the president and CEO of one of Colorado's largest nonprofits and service organizations, and as the father of a young man with Down syndrome, I have seen firsthand how powerful inclusivity is. Arc Thrift Stores' mission is to enhance the lives of individuals with IDD and their families by providing funding to support the ARC, ACL, and other relief organizations in Colorado and nationally. When I first came to arc in 2005, we had only 500 employees and 17 stores. Today we have 1,700 employees and 35 stores. When I started, we had 10 employees with IDD (our Ambassadors); today we have over 400. Today we are a $125 million social enterprise and one of the state's largest employers of people with IDD. I owe this success in large part to our employees with IDD. They are the heart of the organization. They work in every part of the organization, from the store level to corporate.
Best Buddies' membership and participation include some of the most influential business leaders in this country. Each of every one of you is in a position to dramatically shift the conversation, the practices, and the mindset we as a culture have surrounding inclusivity.
It's time to open our minds to how capable and productive people with IDD can be and to the invaluable contributions they can make.
WHAT YOU CAN DO
It begins with a shift in the way we define disability and the way we think about what someone with a disability is capable of.
Look at the jobs that need to be done in your organization. You will find that many of them can be taken on – and done with remarkable skill – by someone with IDD.
Hire for FIT, not job description.
When hiring, have a conversation NOT an interview. It is in these discussions that you will truly get to know someone and understand their capabilities.
Review your DEI policies to ensure that they include people with IDD.
Network with local organizations that help place people with IDD in jobs in your area.
Be mindful and disability friendly in your culture.
Educate yourself and your team on disabilities; you will find that there is no one kind of disability.
Work every day to debunk the myths and misconceptions surrounding employing people with IDD.
I am on a mission to change how we think about inclusivity, and I hope you join me. I hope you will help me in ensuring that every DEI program puts a heavy focus on the inclusion of people with disabilities, especially as it applies to hiring practices. I hope that business leaders like you look at your DEI programs and make sure that they are truly inclusive. I hope that you will commit to hiring team members that have intellectual and developmental disabilities.
One way to hire individuals with IDD is through Best Buddies Jobs. Best Buddies Jobs matches skilled and qualified individuals with IDD with business seeking enthusiastic and dedicated employees. Through the Jobs program, Best Buddies develops partnerships with employees, assists with the hiring process and provides ongoing support to the employee and employer. With the support of a Best Buddies Employment Consultant, employers will have access to an un-tapped workforce to meet the needs of your business. Best Buddies Jobs candidates bring a range of skills, abilities and qualifications to the workplace.
Business Benefits
Cost-effective solution to address business needs
Improves customer satisfaction results
Reduces the recruitment and training costs associated with routinely filling high turnover positions
Lower absenteeism and sick leave than other employees
Promotes a more diverse and inclusive workplace and enhances employee morale
Fosters a culture of corporate responsibility
Federal tax incentives available
As you can see, it's just good business to employ workers with disabilities. It just makes sense!
And I am here, as well. Call me or my team for any advice. We are here to help.