Digital Series to Begin Premiering This Year;

Series Finale Holiday Special to Premiere This December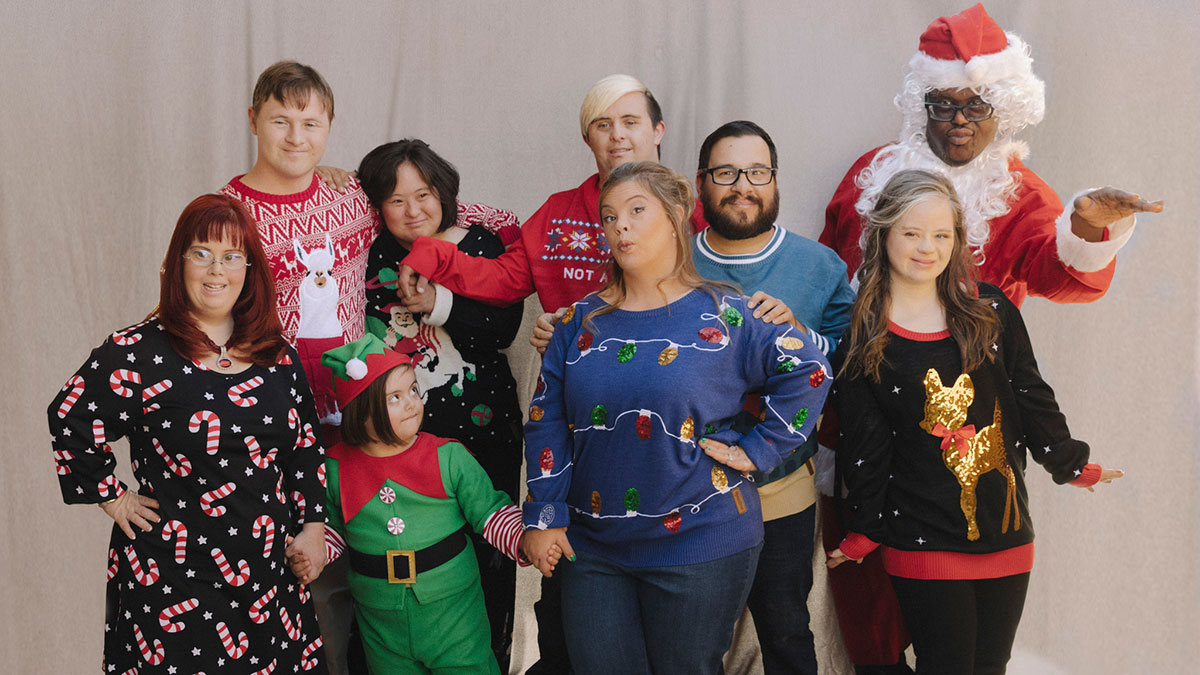 New York, NY – December 13, 2019 – A&E Network's critically-acclaimed, Emmy-winning docuseries "Born This Way" will bring the gang back together for a six-part short-form digital series as well as a one-hour linear series finale holiday special. On the heels of last season's monumental moment of the wedding of cast members Cristina and Angel, the digital series will continue the story of Elena, John, Megan, Rachel, Sean, Steven, Cristina and Angel, and allow them to continue to share their unabashedly honest take on situations that are relatable to all.
The one-hour series finale special will celebrate the spirit of the holiday season as the cast gathers to reflect on their personal growth across the four seasons of the show and discuss "Born This Way's" impact on the way society views people with disabilities. From finding jobs to navigating relationships and breakups to exerting their own independence, the cast will rejoice in the journey they have been on together and thank fans for all of their support along the way.
"It's not often that you get to make television like 'Born This Way' which has had such a positive impact on the world. The show unquestionably changed how society views people with Down syndrome and how people with Down syndrome see themselves," said Executive Producer Jonathan Murray. "It has shown that no one should have to live with artificial limits placed upon them and all of us, no matter what challenges we face, want the same things – independence, a chance for meaningful employment and a chance to contribute to our families and communities."
"Being a part of the amazing and inspiring journey of our cast over the past four seasons has been an honor for myself and everyone at A&E," said Elaine Frontain Bryant, EVP and Head of Programming, A&E Network. "We have all learned so much from their openness, resilience and spirit, and we will be forever grateful to them for welcoming us and viewers into their lives."
The groundbreaking series provides an intimate look at a diverse group of young men and women with Down syndrome as they pursue their passions and lifelong dreams, explore friendships, romantic relationships and work, all while defying society's expectations. The series also gives a voice to the parents, allowing them to talk about the joy their son or daughter brings to their family, and the challenges they face in helping them live as independently as possible.
"Born This Way" won the 2016 Emmy® Award for Outstanding Unstructured Reality Series and was recognized as one of six honorees at the 2016 Television Academy Honors. The series also won the 2018 Critics' Choice Award for Best Unstructured Reality Series and has been nominated for an Emmy for all four of its seasons.
A&E continues to partner with celebrated global non-profit organization Best Buddies International in support of promoting opportunities and increasing awareness for people living with intellectual and developmental disabilities.
"Born This Way" is produced by Bunim/Murray Productions ("The Real World").  Executive producers for Bunim/Murray are Jonathan Murray, Gil Goldschein and Laura Korkoian. Kasey Barrett and Millee Taggart-Ratcliffe serve as co-executive producers. Executive producers for A&E Network are Elaine Frontain Bryant and Shelly Tatro. "Born This Way" is distributed internationally by A+E Networks.
About A&E Network
A&E leads the cultural conversation through high-quality, thought provoking original programming with a unique point of view. Whether it's the network's distinctive brand of award-winning disruptive reality, or groundbreaking documentary, A&E always makes entertainment an art. The A&E website is located at aetv.com.  Follow us on Twitter at twitter.com/aetv and Facebook at facebook.com/AETV.  For more press information and photography please visit us at press.aenetworks.com.
About Bunim/Murray Productions
Bunim/Murray Productions (BMP) is the leading producer of innovative entertainment content. The Emmy Award-winning company is widely credited with creating the reality television genre with its hit series The Real World, which recently moved to Facebook after 32 seasons on MTV. BMP continued to innovate with the first reality game show, Road Rules (MTV), in 1995; the first reality sitcom, The Simple Life (E!), in 2003; and the first reality soap opera, Starting Over, in 2003. BMP's current programming includes Keeping up with the Kardashians, Total Divas and Total Bellas (E!),The Challenge (MTV), Born This Way (A&E), Kim Kardashian West: The Justice Project (Oxygen), The Real World and Ball in the Family (Facebook Watch), Endless Summer, Stranded with Sam and Colby (Snapchat), Miz and Mrs. (USA Network), Family or Fiance (OWN), Crystal Maze (Nickelodeon) and Emily's Wonder Lab (Netflix). BMP has also produced They Call Us Monsters (PBS), Valentine Road (HBO), Pedro (MTV) and the Emmy Award-winning Autism: The Musical (HBO) for BMP Films. Based in Glendale, CA, the company was founded in 1987 by Jonathan Murray and the late Mary-Ellis Bunim, who were inducted into the Television Academy's Hall of Fame in 2012. The company joined Banijay Group in 2010.