Celebrating Friendship With Dr. Valdes and Ambassador James Walker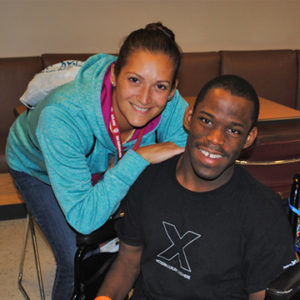 James Walker grew up in Florida in the Miami Gardens area and was first introduced to Best Buddies while in middle school in 2007. Since 2015 James has been participating in the Best Buddies University of Miami Chapter as an Ambassador. When I asked James what Best Buddies means to him he shared, "It has been amazing through my youth. It's been a long ten years in the making, I couldn't believe how long I have been in Best Buddies. I got to go to Leadership Conference this year, it's been a whirlwind and I had so much fun." The opportunity to attend Leadership Conference came at an opportune time. James was able to experience his first plane ride and visit a new state. While at Leadership Conference he was paired with Dr. Karen Valdes, a Best Buddies Alumna who also serves on the Best Buddies South Florida Board of Directors.
James shared "Best Buddies has changed my whole life. Meeting new people from high school, from college, I knew what I wanted. I love meeting new people for the first time. Best Buddies will be a part of my life no matter where I go, because I will always need some friends."
When asked if James could give any advice to students thinking about joining Best Buddies he stated, "Don't be afraid, you're going to have many people who are going to be afraid. When you are in Best Buddies it feels like home. It will open up your heart and tell your story of why you are a part of Best Buddies."
"I am going to do this because I have to do this. I have had so many people who have supported. I am here for anybody in need of help. A lot of people think I can't do anything, I might need a little assistance, but that's okay…that's a part of life. A lot of people say I inspire them, just by sharing my story." – James Walker
Back in 2002 Dr. Karen Valdes first heard about Best Buddies while in college at the University of Miami where she was the Chapter President for two years, she also helped start the Florida International University Best Buddies program.
For Dr. Valdes, Best Buddies means friendship, acceptance and inclusion. When asked how Best Buddies has impacted her life, she stated, "I am more sensitive to topics of disabilities. I welcome kids and adults with disabilities to my office. I learned to interact with people with disabilities. It has educated and made me a better person." She is still connected to and friends with many people she participated in Best Buddies with. Dr. Valdes was a program manager after college, then decided to pursue medical school. She is currently an OBGYN.
"You can't explain this group, you have to join to see and feel the change you can have in other people. Never feel you can't change someone's world by just offering them your friendship!"
– Dr. Karen Valdes