Lillian Hill Named Best Buddies in Alabama 2023 Champion of the Year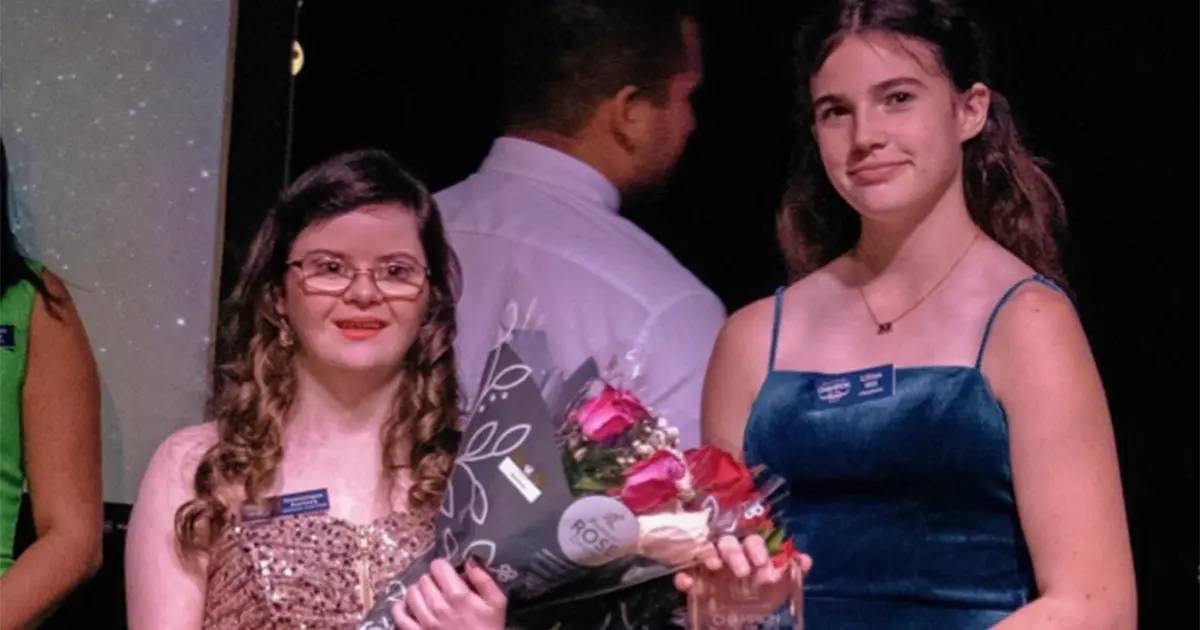 Our 2nd annual Champion of the Year gala was a tremendous success, and we are proud to announce Lillian Hill as our 2023 Grand Champion! She and her Mission Partner, Dominique Portera, raised $11,377.49 to support Best Buddies programs throughout the state.
Lillian Hill is a sophomore at Vestavia Hills High School in Birmingham, Alabama. She is a loving sister to her four siblings and enjoys supporting her teammates on the Vestavia Hills Women's Varsity Flag Football Team.
This Champion of the Year season was Lillian's first time getting involved with Best Buddies. Her mom, Samm Hill, who served as her campaign manager, found Best Buddies at the beginning of this year. Samm was looking to get involved with a non-profit organization in the area with a mission she resonated with, and lucky for us, she found Best Buddies by simply searching the internet! As a volunteer, Samm was recruiting champions for this year's campaign. Lillian was interested to hear what all was involved with being a champion and surprised her mom when she decided this was an opportunity she wanted to take. She dove in headfirst, immediately wanting to find a mission partner who could help her understand and live the mission she had committed to fundraising for. Samm put her networking skills to work, and soon, Lillian and Dominique were introduced! Dominique is an active member of our new Birmingham Citizen's chapter, is a member of the Unless U Adult Program, and works at Scoops Ice Cream Shop in Homewood, Al.
"I am so very thankful for the amazing opportunity to raise money for Best Buddies. Fundraising can feel a bit daunting, but I had awesome encouragement and support. Grace Anne always shared fun and creative ideas to raise money. My mission partner, Dominique, is such a wonderful person who truly embodies the mission of Best Buddies. She is the real winner and inspiration to us all!" – Lillian
Lillian's success was due to the subsidy of her and Dominique's fantastic network of parents, peers, extended family, friends of friends, and many more who supported them on their mission for the Grand Champion title. It was indeed a team effort!
Best Buddies in Alabama is incredibly grateful to all the 2023 Champions and Mission Partners for their incredible efforts to raise funds and awareness for the Best Buddies mission of inclusion. The 2023 Champion of the Year gala raised over $65,000 in essential funds to continue growing Best Buddies' one-to-one friendship and leadership development programs in Alabama.
About Champion of the Year:
Best Buddies Champion of the Year is a competitive fundraising campaign that unites and recognizes the community's most active leaders of inclusion. Champion Candidates commit to raising funds and awareness for Best Buddies over an 8–12-week campaign. Our Champions are advocates for the Best Buddies mission and will generate countless opportunities for friendships, jobs, leadership development, and inclusive living for people with intellectual and developmental disabilities (IDD). At the campaign's conclusion, we will celebrate at the Best Buddies Champion of the Year Gala to honor the Champions' collective impact and name the ultimate Champion of the Year!