Anna Moates Named First Ever Best Buddies in Alabama 2022 Champion of the Year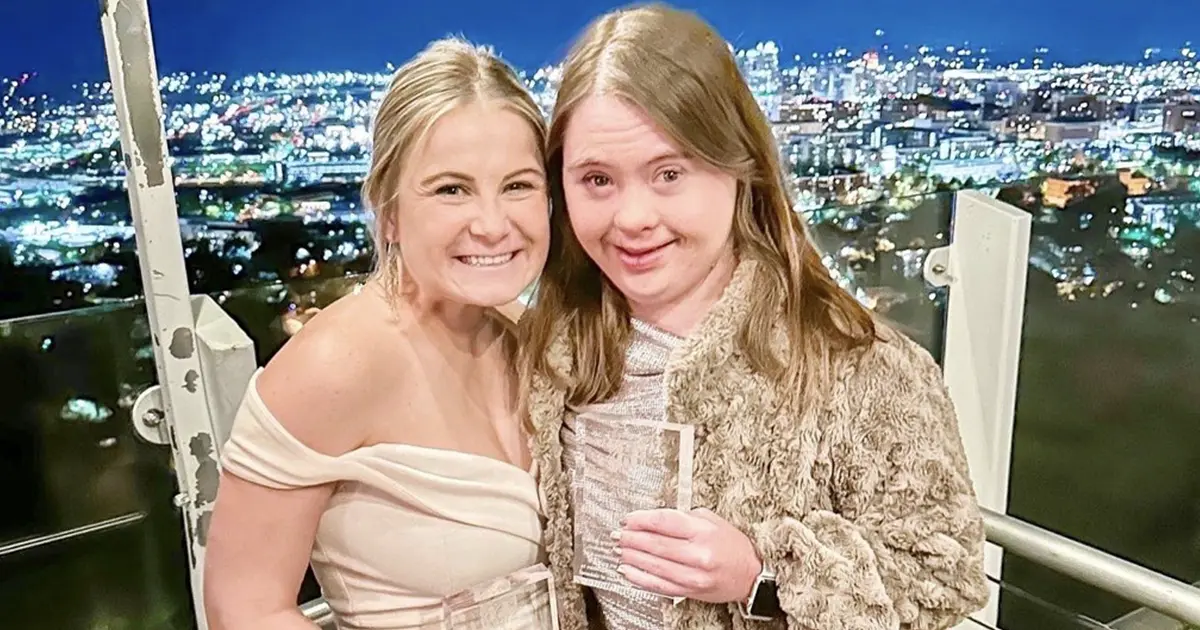 The Best Buddies in Alabama inaugural Champion of the Year gala was a tremendous success, and we are proud to announce Anna Moates as our first ever 2022 Grand Champion! She and her Mission Partner, Eleese Anthony, set the bar for future Champions in Alabama by raising over $23,000 to support Best Buddies programs throughout the state.
Anna was the first person with Down syndrome to be accepted to Auburn University and to graduate from the Eagles Advanced Program at Auburn! Anna continues to break barriers by being the first woman in Phi Mu with Down syndrome, being a published author, and most recently starting as a barista at Bitty & Beau's Coffee in Auburn. Anna says, "Friendship for most individuals with disabilities doesn't just happen – it is intentional and thoughtful. And it begins with inclusion. Best Buddies' message is MY message – Friendship and Inclusion ROCK!"
Anna was nominated for Champion of the Year by Best Buddies staff member, Hannah Marley. Hannah said, "I knew when brainstorming leaders in the Alabama community, we needed to have Anna be at the top of that list as she absolutely embodies what it means to be a revolutionary leader in the state of Alabama!"
Anna graciously accepted the nomination because of her incredible advocacy and inclusion work in her communities and her desire to continue breaking social barriers.
"This is definitely a night to remember! I can't thank my friends and family enough for supporting me! I ESPECIALLY cannot personally thank my campaign manager and best friend, Eleese, enough for standing beside me that night and believing in me. I couldn't do it without you!" – Anna Moates
Anna's success was supported by her – and Eleese's – amazing network: parents, grandparents, aunts, uncles, cousins, employers, peers, friends of friends, and so many more showed up to support Anna on her mission for the Grand Champion title. This was truly a team effort!
Best Buddies in Alabama is incredibly grateful to all the 2022 Champions and Mission Partners for their tremendous efforts to raise funds and awareness for the Best Buddies mission of inclusion. The 2022 Champion of the Year gala raised more than $85,000 in essential funds to continue growing Best Buddies' one-to-one friendship and leadership development programs in Alabama.
About Champion of the Year:
Best Buddies Champion of the Year is a competitive fundraising campaign that unites and recognizes the community's most active leaders of inclusion. Champion Candidates commit to raising funds and awareness for Best Buddies over an 8–12-week campaign. Our Champions are advocates for the Best Buddies mission and will generate countless opportunities for friendships, jobs, leadership development, and inclusive living for people with intellectual and developmental disabilities (IDD). At the campaign's conclusion, we will celebrate at the Best Buddies Champion of the Year Gala to honor the Champions' collective impact and name the ultimate Champion of the Year!
Learn more at bestbuddieschampion.org.