Best Buddies Participant Named Honorary Captain at Atlanta Falcons' Home Opener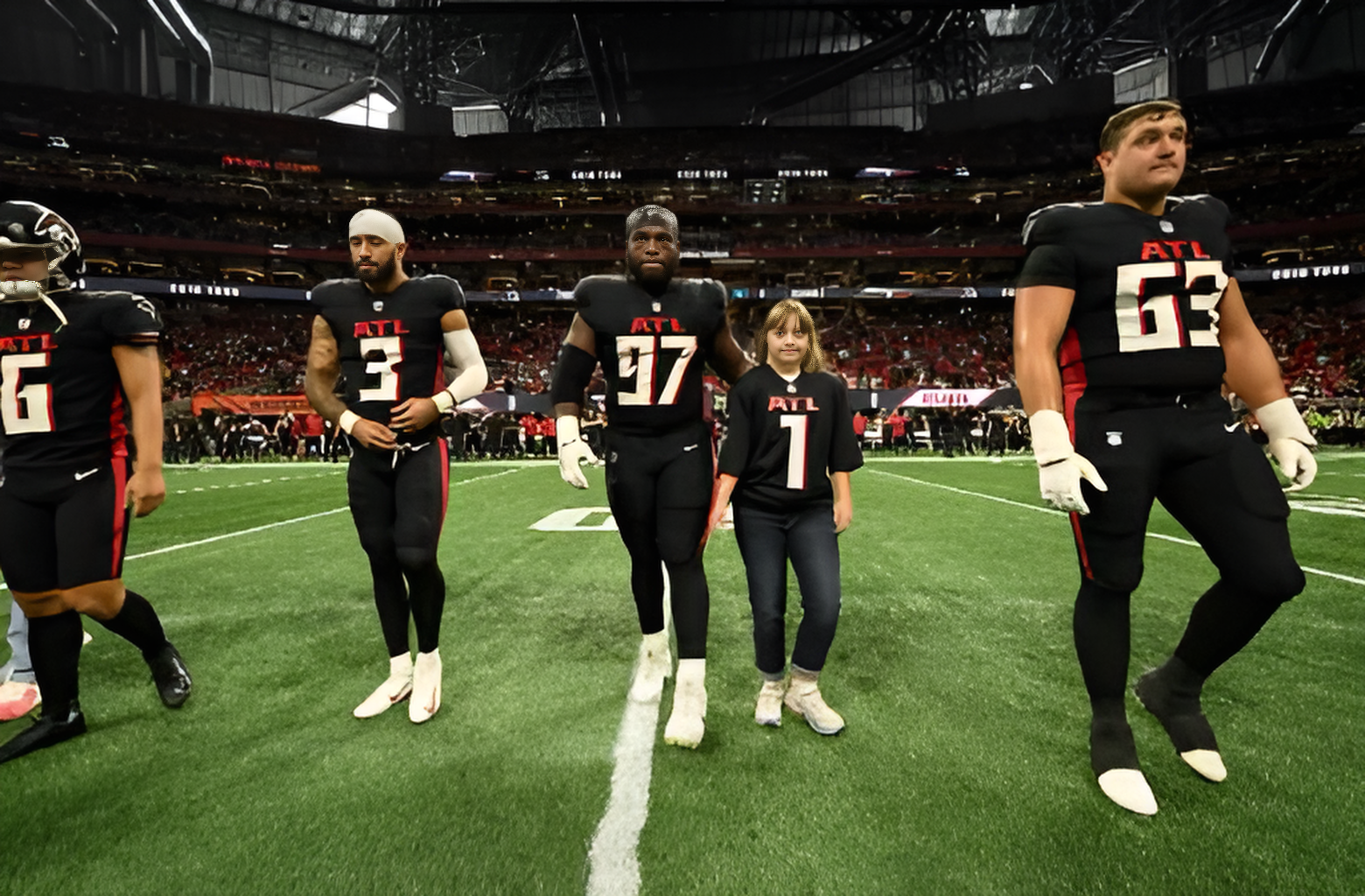 ATLANTA, Sept. 12, 2023 — Cate Ryan, a Best Buddies participant from Georgia, was named the honorary captain at the Atlanta Falcons' home opener against the Carolina Panthers. 
Ryan, a participant at the Marietta High School chapter in Georgia, joined the coin toss with Anthony Shriver, Best Buddies' founder and chairman, and Falcons' players, including Falcons' All-Pro center and Best Buddies Global Ambassador Chris Lindstrom. 
"Our Best Buddies Board of Directors and participants enjoyed an incredible day celebrating our mission with the Atlanta Falcons," David Quilleon, Best Buddies' vice president of global operations said. "We appreciated the opportunity to highlight the abilities of people with intellectual and developmental disabilities (IDD) throughout Georgia." 
The Best Buddies board, of which Shriver, Lindstrom and Quilleon are a part, met in Atlanta for their annual meeting and to support Lindstrom in his season-opening game. Lindstrom has been involved in Best Buddies since the beginning of his NFL career, and he is a big reason why Best Buddies in Georgia has a quickly growing presence. 
"One of the most rewarding aspects of this whole thing is building relationships with people," Lindstrom said in a 2022 interview. "Best Buddies [is] all about the relationships." 
Friendship chapters, like the one Ryan is involved in, pair individuals with and without IDD in one-to-one friendships across the country. Georgia has also recently opened a Best Buddies Living residence, which is currently recruiting residents with and without IDD. 
To support participants like Ryan, visit https://www.bestbuddies.org/take-action/ 
ABOUT BEST BUDDIES INTERNATIONAL: 
Best Buddies® is a nonprofit 501(c)(3) organization dedicated to establishing a global volunteer movement that creates opportunities for one-to-one friendships, integrated employment, leadership development and inclusive living for people with intellectual and developmental disabilities. Founded in 1989 by Anthony K. Shriver, Best Buddies is a vibrant organization that has grown from one original chapter to nearly 3,000 elementary school, middle school, high school, and college Friendship and Promoter chapters worldwide. Today, Best Buddies' nine formal programs — Middle Schools, High Schools, Colleges, Citizens, e-Buddies®, Jobs, Ambassadors, Promoters and Inclusive Living— engage participants in each of the 50 states and in 49 countries and territories, positively impacting the lives of over 1.3 million people with and without disabilities around the world. In many cases, as a result of their involvement with Best Buddies, people with intellectual and developmental disabilities secure rewarding jobs, live independently, become inspirational leaders and build lifelong friendships. For more information, please visit www.bestbuddies.org or connect with us via Facebook, Instagram or Twitter. 
For more media inquiries, please contact: 
Jacob Pasternack, Manager of Marketing and Communications 
305-374-2233, ext. 209 
JacobPasternack@bestbuddies.org