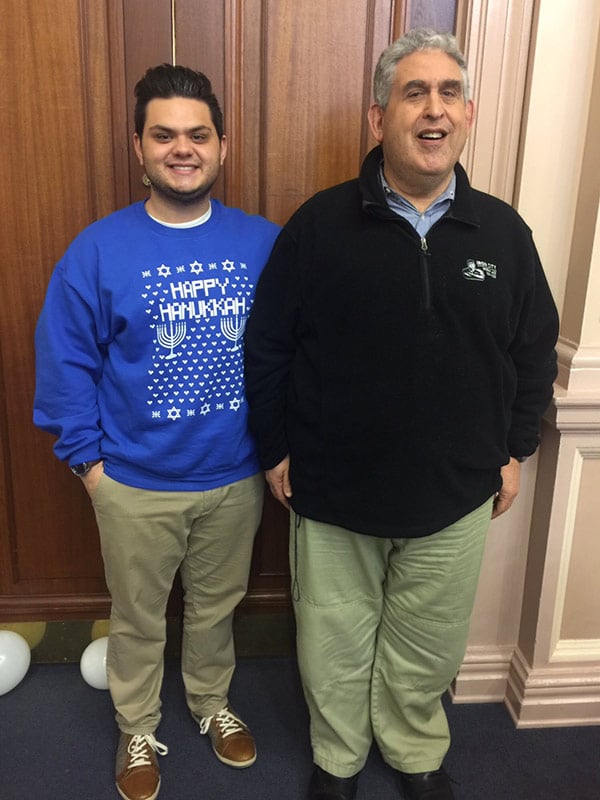 David Defelice & Cecil Rosenthal, Buddy pair from Duquesne University
I am heartbroken by the senseless tragedy that occurred at the Tree of Life synagogue in Pittsburgh, Pennsylvania. Our Best Buddies family sends its love, prayers and heartfelt condolences to the families of the victims who lost their lives during this horrific incident. We are especially saddened by the loss of one of our longtime Best Buddies participants, Cecil Rosenthal.
Cecil had been a member of the Duquesne University Best Buddies chapter for nearly a decade. Best Buddies was a huge part of his life. His dedication to his faith and involvement with his congregation at the Tree of Life was also a huge part of his life.
Former Chapter President and local Best Buddies Board Member Jason Bertocchi said, "Once Cecil learned that Best Buddies is a true outlet for friendship, he became comfortable around us and that's when his personality began to shine. Cecil would tell jokes, tell us all about his days, his independent living situation, and he was genuinely interested in learning all about you. He was sweet, kind, and one of the most gentle souls I've ever met. Cecil became a true staple of our chapter over his 8+ years, and, recently, would always welcome me with open arms and meaningful conversation each and every time we would get together. Our chapter suffered a loss of a family member yesterday. Cecil was a wonderful man and an even better friend. We'll miss you, buddy."
Cecil gave his unwavering friendship and love to each of his peer buddies over the years, including his most recent buddy of two years, David Defelice. He will be remembered for embodying the true spirit of Best Buddies and will be profoundly missed by all whose lives he touched.

Anthony K. Shriver
Founder, Chairman & CEO
Best Buddies International