San Simeon, CA, September 11, 2018 – The 15th Best Buddies Challenge: Hearst Castle Presented by Pepsi-Cola raised $5 million, thanks to the incredible commitment of Best Buddies supporters and the generosity of Steve and Barbara Hearst, with their personal gift of $1 million. The funds were raised for Best Buddies International, a nonprofit dedicated to creating opportunities for friendship, employment and leadership development for people with intellectual and developmental disabilities (IDD). The event was co-chaired by Steve Hearst and Lieutenant Governor of California Gavin Newsom. Carl Guardino, one of Silicon Valley's most distinguished business and community leaders, served as the 2018 Event Chair. Nearly 1,200 people participated in the Challenge—a charity ride down the scenic coast of California.
This year's edition kicked off on Thursday, September 6 with a private dinner in the Bay Area to celebrate the continued partnership with luxury Swiss watchmaker Hublot, and the launch of the second co-branded timepiece: The Hublot Big Bang Unico Best Buddies Limited Edition. A portion of proceeds from the cycling-inspired timepiece itself will benefit the organization, in addition to the partnership support provided by the watchmaker.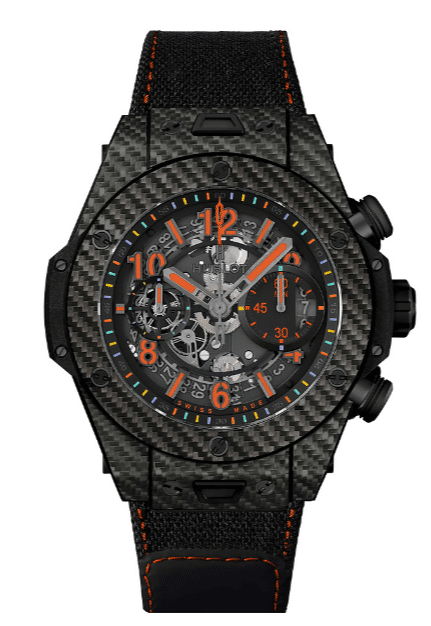 The weekend continued with a welcoming reception on Friday, September 7 at the Hearst Ranch, where guest enjoyed cocktails, a catered dinner and a program that highlighted the achievements of the Best Buddies mission and its supporters. Several fundraising teams participated in this year's jersey contest, where cyclists showcased their unique and creative cycling kits. The contest was judged by professional cyclists Christian Vande Velde and Georgie Hincapie, along with three buddy judges: Caley Versfelt, Joshua Felder and Richard Nakai. Team Best Buddies Central Valley won the jersey contest this year, which was designed by Best Buddies participants.
"The Hearst Corporation and I maintain an overwhelming sense of community each year as we welcome Best Buddies to the Ranch. We greatly enjoy our partnership with Best Buddies International and we salute and celebrate all of their milestones and achievements," said Steve Hearst. "Best Buddies International's global volunteer efforts exemplify humanity, unity and dignity, making a positive difference in communities around the world, embodying the true meaning of the word Friendship. I am pleased that year after year, the Ranch has proven to be the perfect venue for this spectacular event."
During the Friday reception, Maria Shriver presented the inaugural Nancy McFadden Award to California Lieutenant Governor Gavin Newsom for his great leadership, generosity and spirit in supporting the Best Buddies mission of friendship and inclusion for people with IDD. Newsom has served as the Honorary Co-Chair of the Best Buddies Challenge: Hearst Castle since 2010.
Saturday's events began bright and early at Hearst Beach as cyclists prepared to ride down the charming and picturesque landscapes, charming vineyards and rolling canyons of California's Central Coast. The Challenge also featured alternative 60, 30 and 15-mile cycling routes, as well as the Carl Lewis Challenge, a 5K run/walk. Professional cyclists George Hincapie and Christian Vande Velde, both riding on Team Hublot, led the pack down the winding and steep hills and climbs to the finish line.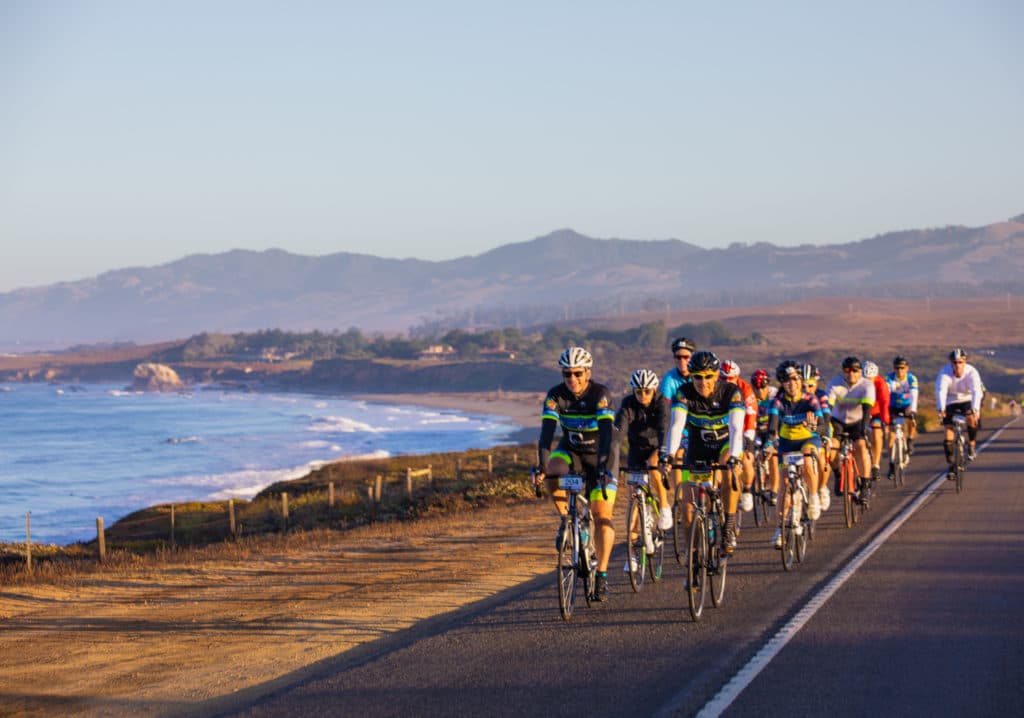 The event continued on Honorary Co-Chair Steve Hearst's ranch with a barbeque and award ceremony that celebrated all of the day's accomplishments. During the celebration, the new Hublot Big Bang Unico Best Buddies Limited Edition timepiece was auctioned off and the Sponsor-a-Buddy portion of the evening, which underwrites the cost of attendance to the annual Best Buddies Leadership Conference, raised a total of $96,500! Another memorable moment from the evening included a powerful speech from Best Buddies participant and A&E's Born This Way actress Caley Versfelt, who spoke about Best Buddies' impact on her life.
During the event, Anthony K. Shriver gave a special recognition to the individuals who have participated in the Best Buddies Challenge: Hearst Castle all 15 years – Steve Hearst, Bob Friedman, Joe Blum, Aaron Gershenberg and Dan Dour.
E. & J. Gallo Winery was presented with the 2018 Spirit of Leadership Award, the organization's highest accolade presented to organizations who have shown great leadership, generosity and spirit in supporting the Best Buddies mission of one-to-one friendship, integrated employment and leadership development for people with IDD. Since becoming involved with the Best Buddies Challenge: Hearst Castle in 2007, E. & J. Gallo Winery has proven themselves to be true advocates for people with special abilities and under the leadership of Karyn and Tom Gallo, the nearly 450 members of Team Gallo have raised more than $1.1 million in support of Best Buddies.
The Hearst Ranch barbecue concluded with a lively performance by Soulville California Band, who performed several top 40 songs and classic hits. Christopher Duffley, a 17-year old musician, gifted speaker and podcaster, also gave a special performance to an excited crowd. The evening wrapped up with a VIP reception at the illustrious Hearst Castle, which included a Hublot-branded photo booth and pop-up boutique, cocktails, and guided tours of the iconic castle. Several celebrities and guest attended the Challenge including actor Patrick Schwarzenegger, Greg Germann and Greg Fitzsimmons; professional cyclists George Hincapie and Christian Vande Velde; author and journalist Maria Shriver; and President of Hublot of America Jean-François Sberro.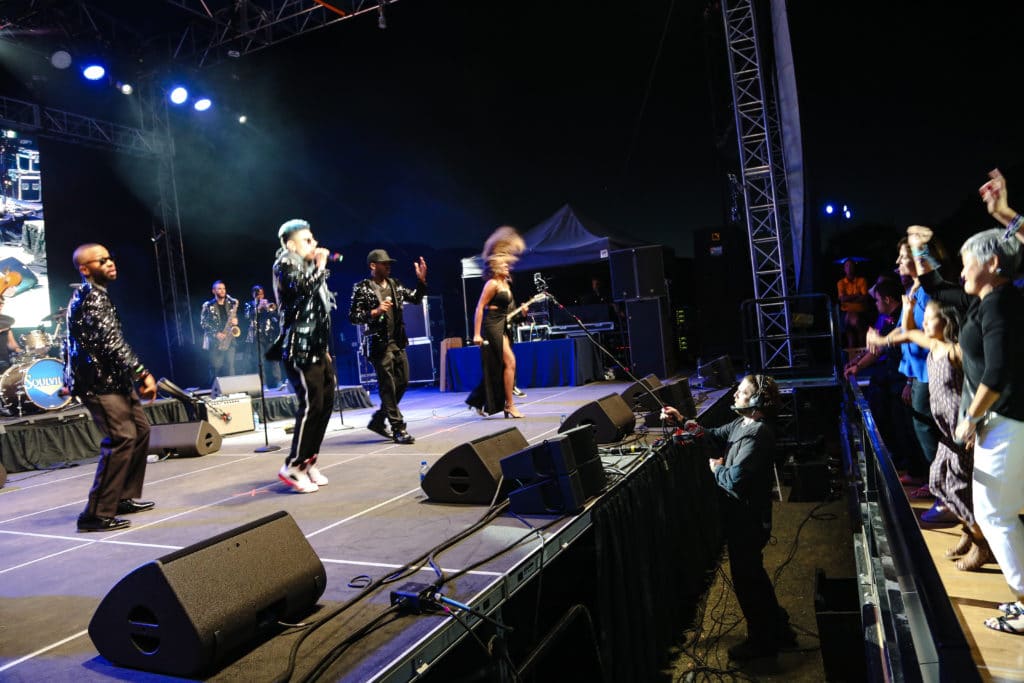 The classic event was another success that brought together local and global supporters and participants for a weekend of celebrations, cycling, and recommitting to the Best Buddies mission.
Challenge sponsors included: Presenting Sponsor, Pepsi-Cola, Official Beverage of the Best Buddies Challenges; Hearst; Hublot; Chevron Corporation; E. & J. Gallo Winery; Paramount; Silicon Valley Bank; Capital Dynamics; Carnival Cruise Line; First Solar; Pacific Gas and Electric Company; Southern Glazer's Wine & Spirits; Testa Catering, Official Caterer of the Best Buddies Challenge: Hearst Castle; BMC Switzerland, Official Bike Sponsor; and The San Francisco Chronicle.
TOP TEAMS:
Hearst ($1,306,944.00)
Team Silicon Valley Bank ($439,089.80)
Team Maria ($208,099.35)
Audi ($167,779.66)
Team Gallo ($116,414.90)
Best Buddies Central Valley ($114,210.53)
Team Webcor ($58,671.75)
ManpowerGroup ($47,050.00)
Not Fast Just Furious ($39,812.00)
Carnival – Travel Agents Rock ($37,562.72)
TOP INDIVIDUALS:
Carl Guardino ($139,550.00)
Patrick Heron ($63,000.00)
Andy Barowsky ($50,000.00)
Aaron Gershenberg ($42,486.98)
Joe Blum ($33,259.75)
Michael Van Handel ($28,200.00)
Greg Becker ($25,500.00)
Matt Schwartz ($23,601.00)
Marco Dondero ($20,000.00)
Vincenzo Stankard ($17,859.25)
ABOUT BEST BUDDIES  INTERNATIONAL:
Best Buddies® is a nonprofit 501(c)(3) organization dedicated to establishing a global volunteer movement that creates opportunities for one-to-one friendships, integrated employment and leadership development for people with intellectual and developmental disabilities. Founded in 1989 by Anthony K. Shriver, Best Buddies is a vibrant organization that has grown from one original chapter to nearly 2,500 middle school, high school, and college chapters worldwide. Today, Best Buddies' eight formal  programs — Middle Schools, High Schools, Colleges, Citizens, e-Buddies® , Jobs, Ambassadors, and Promoters — engage participants in each of the 50 states and in 50 countries, positively impacting the lives of over 1.2 million people with and without disabilities around the world. In many cases, as a result of their involvement with Best Buddies, people with intellectual and developmental disabilities secure rewarding jobs, live on their own, become inspirational leaders, and make lifelong friendships. For more information, please visit www.bestbuddies.org, facebook.com/bestbuddies or twitter.com/bestbuddies.
For media inquiries (including requests for credentials):
Nicole Maddox
305-374-2233 ext. 343
NicoleMaddox@bestbuddies.org
###