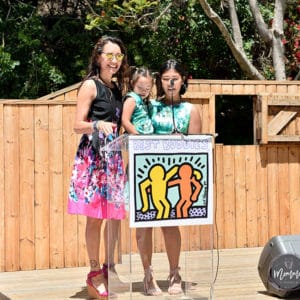 This past May, I was invited by Best Buddies International to attend their annual celebrity fundraiser that was organized by mother daughter tandem, Cindy Crawford and Kaia Gerber. Funny thing is, when my International Director, Jennifer Allen, invited me, I thought I was merely attending the event as a Best Buddies International Delegate. I did not realize that they were giving me an award! I was super excited to be traveling with Gelli, as this would be her first trip to the United States since she was born. What made this event even more exciting was the fact that I would be able to spend some quality time with my sister Nicole during our stay in California.
Nino and I decided that our eldest daughter Gia should be the one to accompany Gelli and I to Malibu. It was a difficult decision, but Diego had basketball activities that would limit his travel. We both figured that the girls would have some bonding time abroad, while the boys had some bonding time alone at home. It actually turned out to be a wonderful idea because some really great conversations and bonding came out of the time we spent apart in our same sex teams.
I really was wondering how I would share this experience with all of you without it seeming like it was bragging. In fact, I have posted very little about the event, except for a photo album on the Best Buddies Philippines Facebook Page. I'm not so sure how to navigate this part of the self promotion by posting about this. I did not expect to be awarded anything during this event, rather, I thought I was going to be given an opportunity to share the challenges of furthering inclusion here in the Philippines so that the guests at the fundraiser could gain a greater understanding of what life is like outside of the United States for people with intellectual and developmental disabilities.
To read the full story click here.