By Jeff Zbar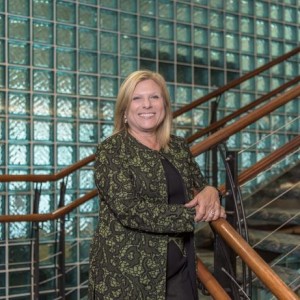 When Lisa Lutoff-Perlo presided over the reveal of Celebrity Cruises' new Edge-class cruise ships this March, it was more than a showcase of what will be the first of a quintet of billion-dollar vessels scheduled to debut beginning in December 2018.
The event was the culmination of Lutoff-Perlo's vision for the Celebrity brand, its guests, the cruise industry – and her team.
"We knew our future was riding on the launch of this class of ships," she said.
It's one in a long list of achievements for a woman who's changing the face of the male-dominated cruise industry. In 2014, Lutoff-Perlo made history by being the first woman named president and CEO of a major cruise line. It didn't take long for her influence to be felt, as she soon named the first female and first American to captain a mega-cruise liner.
This April, she inked a two-year partnership with the Malala Fund and its founder and Celebrity Edge godmother, Nobel Laureate Malala Yousafzai.
"I try to create an environment where people know that I genuinely care about them and our success, not just my success," Lutoff-Perlo said. "Discretionary effort is something every leader should strive for because people will go further than they ever thought they could."
What may surprise people about you? I'm really committed and loyal. I've been with the company 32 years and with my husband 34 years. I don't give up. It's a personality trait that defines me in a lot of ways.
What do you appreciate most about the South Florida business climate? It's a great community of people who are committed to the businesses they run and the community they serve. I spend a lot of time in Broward, because that's where I live, and Miami-Dade, because that's where I work. We're supportive of each other because we're a growing business community.
If it could be fixed with a snap of your fingers, what would you solve in the local business climate? We still have a ways to go in the way the rest of the country thinks about us. We recruit from everywhere. Even I remember way back when I was considering coming here in 1989 and thinking, "Oh, do I really want to go to South Florida?" The business community has an opportunity to promote ourselves. That's what I would fix if I could.
What would you go back to tell your 21-year-old self? What I tell my team all the time: "The only limits we have are the ones we put on ourselves." Go out and explore the world. You have so much to offer and, unless you're in it, you really cannot know that. I was raised in Gloucester and, when I go back to reunions, I still see people who never went over the bridge.
What is your greatest community accomplishment? That every single person on my team gives back in a meaningful way. For me, it's my involvement in the United Way and with Best Buddies. I'm most proud that we recently hired a best buddy, and he's one of the best employees here. I've worked with my executive committee to make sure he's not the last buddy we hire.
What's left to accomplish in your career? You really have to think about that when you come into these jobs. We have a big company, lots of brands. You learn that you really aren't done, even when you think you're done. I still have a lot left in me. Beyond my career and this company, I'm looking forward to the day that I can make a bigger difference in the world in all this job affords me. For me, that's something the world needs more of, and I would like to be one of those people.
To read the full story click here.