By Megan Johnson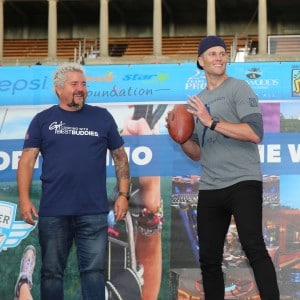 He may be known for visiting restaurants across the country on Diners, Drive-Ins, and Dives, but Guy Fieri says that he actually doesn't eat out that much in his day-to-day life. In fact, he prefers to keep things healthy at home with whole grains and lots of greens.
"I eat out less at restaurants than anybody you've ever met, because I do a lot of that on [the show]," the Food Network Star told PEOPLE. "My favorite thing to do in the world is cook [at home.]"
And despite the fame he's garnered from his culinary talent, Fieri says that was never the goal. "I wasn't supposed to be on TV; I don't know how that happened. That has been great, but what I really love to do is cook."
And that's just what Fieri did on Friday evening at Harvard Stadium in Boston, MA, where he hosted the second annual Guy Cooking with Best Buddies Celebrity Chef Food and Wine Festival. The organization dedicated to ending the social, physical and economic isolation of people with intellectual and developmental disabilities (IDD).
Also part of the evening was the annual Best Buddies Football Challenge, co-hosted by Tom Brady. Playing quarterback for both teams, Brady brought his son Jack onto the field to rumble with fellow players like Julian Edelman and Danny Amendola (whose girlfriend Olivia Culpo was also present), as well as a bevy of other current and former Pats.
"It's such a special event, and it's grown so much It's great because everything we do is focused on these wonderful, wonderful people," the NFL star told the audience, who hopped from food station to food station featuring chefs from top Boston restaurants like Davio's Northern Italian Steakhouse, Mike's City Diner, and Rino's Place.
Brady also used his golden arm to throw 25 footballs into audience to eager bidders for the price of $2,000 each—the cost it takes to send two Best Buddies to a special leadership conference.
To read the full story click here.