By Lara Bricker newsletter@seacoastonline.com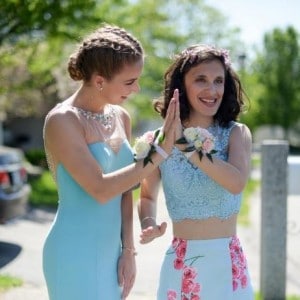 EXETER — There was one person Darci Joyce couldn't wait to see as she got ready for her junior prom Saturday afternoon.
"Kalie's here," Darci yelled as she bolted out the front door of her home and into the arms of her best friend Kalie-Ann Nassoura.
The two embraced repeatedly before they made their way inside.
"I'm so excited," Kalie-Ann, a senior who lives in Stratham said. "Are you so excited?"
Darci beamed and clapped her hands together in joy.
And then it was time for the girls to get ready for their prom, complete with a good dose of laughter and a lot of anticipation. They raced upstairs to Darci's room. Their dresses hung side by side as Kalie-Ann arranged Darci in good lighting by the window to do her makeup; Darci's blue and pink two-piece floral dress next to Kalie-Ann's elegant blue gown.
As for what she was most excited for about the prom, Darci did not hesitate.
"The boys," she said as she smiled and clapped. "In tuxedos."
Darci, a junior, and Kalie-Ann, a senior, have been fast friends for the past two years, ever since the day Kalie-Ann noticed the other girl hiding her face behind a Star Magazine during a food and nutrition class at EHS. Kalie-Ann is a dancer; Darci a cheerleader. But what began their friendship was neither.
For the past two years, the two teenagers have bonded through the Best Buddies Program, which promotes one on one friendships between able-bodied students and those with intellectual and developmental disabilities.
Kalie-Ann had just watched a video about the Best Buddies program, and as someone with several family members with special needs, the Stratham teen felt a strong urge to get involved in the new program at EHS. It seemed like fate that afternoon when she looked over at Darci and her Star Magazine. She knew exactly who she wanted for her buddy and put in a request to be paired with Darci.
"This was meant to be," Kalie-Ann said. "There's nothing different or special about the fact that Darci's in special education; she's just my friend."
Darci was born with Fragile X Syndrome, a genetic condition that causes a range of developmental problems including learning disabilities and cognitive impairment. Though school work has been challenging, her joyful personality has helped her find a place with her peers.
"The thing that's always carried Darci is the social piece," her dad Bruce Joyce said. "She's so friendly to others."
Bruce, who substitutes at EHS, says everyone knows Darci in the hallways. Her mother Bev Hodsdon agreed.
"She's like the mayor," Bev said, adding other students are drawn to her because, "she's sweet and kind."
While the Best Buddies program holds a monthly activity, Kalie-Ann and Darci soon started hanging out on their own. They walk around downtown Exeter together, get their nails done, and sing Darci's favorite songs from High School Musical and by Miley Cyrus. Darci attends Kalie-Ann's dance recitals while Kalie-Ann supports Darci at the Special Olympics where she competes in the softball throw, 50 and 100 meter runs and the standing long jump.
The friendship has changed both of them, so much so that Kalie-Ann wrote her college essay about their connection. Though Kalie-Ann is going off to college in the fall, she has already hand-picked the person she wants to take over as Darci's Best Buddy when she graduates. She's not leaving her best friend to just anyone.
"I think that we've both opened up each other's social circles," Kalie-Ann said, adding she met students in the special education program through Darci that she wouldn't have otherwise met. "It's definitely been a two-way street in terms of making friends."
Kalie-Ann stressed the two-way street not only applies to their expanded social circle but also their prom experience.
"I don't want anyone to think I'm helping her by taking her," she said. "I am privileged and honored to take her to the prom. I'm the lucky one here, I get to spend this amazing night with her. It's such a blessing and a gift."
Darci's father Bruce said the friendship has been wonderful for her. "Kalie's basically a big sister and best friend all in one," he said.
Though she seemed shy that day in class, Darci's true personality emerged soon after the two girls started hanging out. "Once you get to know Darci, she is full of spunk and sass and attitude," Kalie-Ann said.
Darci let some of that spunk show as a newspaper photographer took her picture while she got ready for prom.
"Get my good side," she told the photographer deadpan.
Bev was worried that Darci might not go to the prom and was thrilled when Kalie-Ann asked her to go.
"It's like girl's night out," Bev said. "It's awesome."
To read the full story click here.