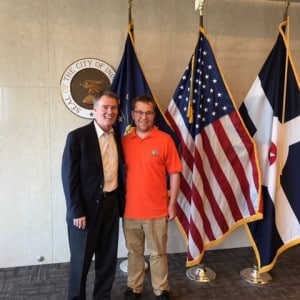 INDIANAPOLIS – An organization aimed at creating opportunities for those with intellectual and developmental disabilities recently welcomed their first Indianapolis employment participant.
Matt Burns works three days a week – totaling 18 hours – as an employee for the City of Indianapolis through Best Buddies Indiana.
"I take pictures for the fire trucks," said Burns. "It's pretty fun."
Burns works for the human resources department where he does filing. He also helps the police department.
"His favorite part of his job is with the surplus department, where he helps prepare items for auction, and photographs them for the auction, and is now learning to actually set up the auctions on the computer," said Burns' supervisor Kim Harvey. "He is a busy guy."
Best Buddies Indiana focuses on inclusion and opens up the workplace for those with disabilities.
"That is a big challenge for people, but then it's just the world that lacks acceptance. People place too many limits when they see that someone has a disability that becomes an obstacle that no one wants to address," said Harvey.
Best Buddies Indiana will place their second participant in employment this week and by the end of 2017, the organization hopes to place seven to 10 people in employment positions.
To read the full story click here.