By Matt Glynn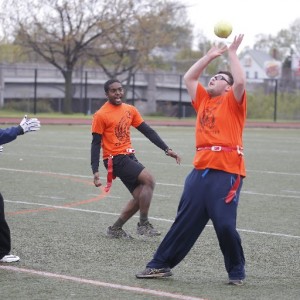 As the football floated through the air, Jacob Lanning read the play perfectly and snatched an interception.
But his pickoff was only the beginning. Lanning spiked the ball on the Coyer Field turf, struck a Fred Jackson-like "Hulk" pose, and capped the play with a flying chest bump with one of his team's coaches, who charged toward him from the sideline.
High-energy moments abounded at the "flag football showdown" on chilly Sunday afternoon at SUNY Buffalo State. Best Buddies' Buffalo State Chapter hosted the game, giving individuals with disabilities a chance to play alongside members of the college's chapter, as well as other college students who got involved.
Lanning, 19, loves football and was in his element on the field. "It's amazing, with all the staff and the football team and the Best Buddies organization combining, it's a lot of fun."
Best Buddies' mission is to ensure people with disabilities participate in all kinds of activities, whether it's bowling, ice skating, group walks or dancing. The football game was a new idea that the chapter hopes to make an annual event.
Autumn Jenks was thrilled to see the game come together. The Buff State sophomore is the chapter's president and has been working on plans for the game since last July. "I believe that even an individual with a disability can accomplish anything they want to, and they should be inspired to follow their dreams just as anyone else is to follow their own," said Jenks, who is studying to become a special education teacher.
The game was all for fun, but that doesn't mean it wasn't competitive. The scoreboard glowed with the game clock and score. Jahad Bryant delivered commentary over the public address system. And Christian Ozolins, a Buff State assistant football coach, took charge as the referee. One team wore orange shirts, the other side wore black. Good-natured trash talk filled the air. The Pom Dance Team entertained at halftime.
Other coaches and players from Buff State's football team helped coach, and they were fired up. As a member of his team carried the ball downfield, Steve Smaldone, who plays center for Buff State, bolted down the sideline.
"They're really enjoying it, it's a great chance for them to play," said Smaldone, a junior from Long Island. "We give them a chance to feel like they won the Super Bowl."
On the field, Dill Multerer was constantly in the quarterback's face for his team, forcing throws. "I'm not a great athlete, but it feels like the best I can do," he said.
Beyond that, Multerer appreciated what the game was about. "I'm glad that we're doing it, and obviously we're raising money for Best Buddies New York," he said.
The Best Buddies chapter on the Buff State campus has been around for 17 years, and was the first one in New York state, said Lynne Somerstein, the chapter co-adviser. Now there are 21 such chapters in the region.
Individuals whom the Best Buddies chapter's members befriend are in a range of ages, said Bonnie Webster, the organization's area director. Webster said the college students grow from the experience, too.
"They get to see friendship in a different light," she said. "You don't check out people based on what they look like or how they act. You kind of just open your heart up a little bit more and make that connection that way."
Claire Borczuch, a Buff State junior and chapter member, was taking photos. She said the event touched her because "people who normally wouldn't be part of a sports team, now can be part of a sports team."
"It's totally a natural friendship," Borczuch said. "I'm not just in this because I want to meet people with disabilities. I want to meet all people. I don't define anybody by their disability."
To read the full story click here.