CATHERINE W GICHUKI
DOHA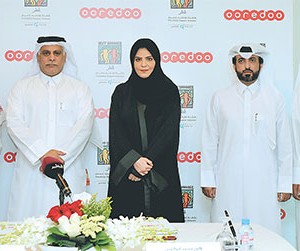 OOREDOO and Best Buddies Qatar (BBQ), an initiative launched by Her Highness Sheikha Moza bint Nasser to support people with intellectual and developmental disabilities, signed a three-year agreement in Doha on Monday.
According to the agreement, Ooredoo will provide financial support to the organisation as well as a host of state-of-the-art services, including developing an app for Best Buddies Qatar and making sure the organisation is always connected through the company's Supernet.
The agreement was signed by Ooredoo Qatar's Chief Operating Officer Yousuf Abdulla al Kubaisi and Best Buddies Qatar's Executive Director Laalei Abu Alfain at a ceremony held at Ooredoo HQ1 in West Bay.
As part of the partnership agreement, Ooredoo will also provide a hotline, SMS and MMS services as well as Hala lines for Best Buddies Qatar and allow donations through Nojoom points.
Speaking to media persons, Kubaisi said the hotline will enable Best Buddies to remain connected all the time so that those who need help can call."We will enhance technology to cater for their educational and occupational needs."
Kubaisi added:"Ooredoo has a longstanding history of supporting community and humanitarian activities nationally, and was pleased and proud to partner with Best Buddies Qatar to provide them with the support they need through their wide range of communications services."
Laalei Abu Alfain said:"We are delighted to have Ooredoo as a partner for our organisation. Their enthusiastic support for building a culture of solidarity and inclusion, along with the advanced solutions they provide, will enable us to work together to achieve our main goal to end the social, physical and economic isolation of people with intellectual challenges."
Alfain said that technological support is very important because it prepares people with special needs for jobs once they become adults."It depends on one's capacity. It depends on what they can do. Some of them are excellent in computing whereas others are brilliant in handicrafts."
She added that Best Buddies Qatar collaborates with Shafallah Center For Children with Special Needs to prepare people with intellectual challenges for employment.
To read the full story click here.