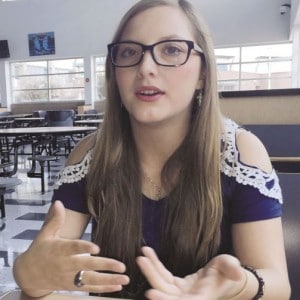 Someday in the future, when you need a caring nurse, Alexis Ramsey is the one you'll hope is nearby when you need her.
You should see her in action as the president of the Cleveland High's "Best Buddies" club, the state's Chapter of the Year award-winner in 2016, from reading several announcements to scurrying around the cafeteria during a recent Best Buddies meeting, checking in on each and every special needs student there — including the use of sign language to communicate with one smiling girl.
This CHS senior is going places — and, literally, going places is what she does every morning, driving in from her home in Ponderosa in the Jemez Mountains. She's involved with the Future Farmers of America — an officer, naturally, and the District 1 VP — and joined Best Buddies soon after transferring to CHS during her sophomore year.
"When I first transferred to Cleveland, I remember walking down the hallways and just seeing them smile … The Best Buddies room is right next to FFA, and so I'd always be passing by them. … They're always smiling; they make your day," she recalled. "So I always try and go out of my way for people who don't know really what they're doing for other people. The Buddies don't know how well they make my life.
"These students don't make it a chore to give your time, you want to give your time," she said. "I make time during my passing periods to go say 'hi' to them, go say 'good morning' to them … visit with them, just see how their day is going.
"At Jemez Valley (High School), I wanted something different, I wanted to see how it was to go to a bigger school, and how I would get along in a bigger school just to get myself used to college," Ramsey said. "So, halfway through my sophomore year, I made that decision to transfer from Jemez Valley High School, which was like 15 minutes from my house, all the way here.
"I came from a school — in grades K-12, there was a total of 112 students — and this year my graduating class is, like, 550 students." That's only about 20 times greater than the JVHS Class of 2016, which she said would be about 28 students.
"I do love the challenge. At Jemez Valley, I didn't really have to study much. I don't want to sound snotty, but I didn't have to try as much to get good grades," Ramsey said. "Here, I feel like I earn them. I study harder; I work really hard to get the grades that I have, so that's a real challenge for me."
As if studying, FFA and Best Buddies weren't enough to occupy this teen's time, she also volunteers at Loving Thunder Therapeutic Ranch in Rio Rancho, which caters to veterans and students with disabilities.
"I started doing that in December," she said. "(Best Buddies) got a grant last year and the first thing that we used our grant for was Loving Thunder. And so we took our students to Loving Thunder to get some lessons — it was just kind of like a field trip. We got them out to do horse-riding, they learned parts of the horse — it was really cool.
"I've always been around horses since I was little; riding is probably my favorite thing to do," she said. "That was really cool. (I thought), 'This is awesome; it fits some of what I know from FFA, it fits with what I know from my early childhood, and it also fits in with Best Buddies and disabilities.' I'm like, 'This is the best thing ever.'"
She plans to enroll at CNM in the fall to start working on her career plans as a nurse, and then transfer to UNM for her nurse-practitioner's license.
Although Best Buddies stay busy with in-school activities, as well as outside-school events — the "unified" events, which include basketball, bowling and track & field teams — this year's focus is on "losing" the hated "R word."
Last year, 800 CHS students signed a giant banner, pledging to stop using it.
CHS teachers David Holland and Ben Vigil "tag team" as sponsors and advisors when ti comes to Best Buddies and unified activities, Ramsey said. Vigil said there are 65 CHS students involved in the unified sports program, happy that it has been growing in participation and success.
To read the full story click here.