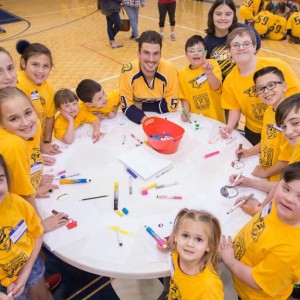 Anneliese Barron doesn't want you to feel sorry for her. After all, that's the last emotion she would ever feel these days.
Before her son, Matthew, was born, she knew he was going to have Down syndrome. Armed with that information, she began to research what assistance might be available for Matthew in the years to come – what things could help to give him a life like all of his peers around him. Except nothing was bringing peace.
"There were lots of great programs, like learn how to read better, write better, ride a bike, and that all seemed great to me," Barron said. "But I thought, 'At the end of the day, does it really matter if he has no one to ride a bike with?'"
She stumbled upon a group called Best Buddies, the world's largest organization dedicated to ending the social, physical and economic isolation of the 200 million people around the globe with intellectual and developmental disabilities. It seemed like the perfect fit, but there was a problem.
The state of Tennessee didn't yet possess any Best Buddies programs in the late 2000s, so she reached out to see if there was interest from the organization to expand. There was, but someone need to raise funds to the tune of $250,000 to get it off the ground.
"I kept calling back to see if anyone had shown any interest," Barron explained, "but every person I saw said, 'Have you heard of Best Buddies? You should raise the money!' Then finally, a year later, I thought, 'Gosh, I have to do this myself.'"
So off she went, a Canadian and hockey fan, seeking out help from her newly adopted hometown team. Barron was aware that the head coach of the Nashville Predators at the time, Barry Trotz, had a son with Down syndrome. Emails and phone calls were exchanged, and before long, she had scored a meeting with Trotz – who was immediately all in – and the planning began.
But it wasn't until they held their first fundraiser in 2010, for a group that didn't even exist yet, and raised $30,000 that they realized they had something.
Seven years later, Barron is standing in the Franklin Road Academy gymnasium, watching Matthew, and so many others like him, doing what she always dreamed he would – playing with his friends. So many friends.
Predators defenseman Roman Josi is there too. He may have a higher profile than anyone else here on this day, but to the kids, he's just Roman, their buddy.
"I think every kid deserves to have friends," Josi said. "As a kid, you want to be around your friends and Best Buddies makes that possible."
Josi learned about Best Buddies when Trotz was his coach, and he's taken an interest ever since. But this past Monday in a gym south of Nashville, Josi, with the help of the Nashville Predators Foundation, partnered up with Best Buddies Tennessee to make sure events like these keep happening.
"It's such a great thing; those kids are amazing," Josi said. "They're so much fun to be around, so that really inspired me, and I really wanted to help."
Barron has worked to transform the Best Buddies Tennessee office to one of the largest state operations in the country with more than 100 schools involved. Professionally, Barron is humbled and proud of the growth the organization has seen in the Volunteer State in such a short amount of time. And personally?
"To see that I don't have to worry now about Matthew growing up, I know he's going to be OK," Barron said. "As a parent, that's a really great feeling to have because that's not something I had 10 years ago when he was born."
The pilot program Josi is involved with is helped with a grant from the Preds and has three schools on board, focusing on group inclusion at the elementary level. And as the All-Star blueliner played basketball, hula-hooped, drew pictures and smiled for the entire afternoon, Barron held back tears.
"People have gone from wanting to throw me pity parties to saying how blessed I am to have a son with Down syndrome," Barron said. "To see that reversal of thinking in such a short amount of time, it really shows that our programs work – not just for that one-to-one friendship, but for all the people around them. It has such a huge ripple effect and it can really transform a community."
Josi plans on doing just that in the months and years ahead in Music City – being a friend for those who need it most.
"A lot of people think we're coming here and the kids are having fun, which they are, but it's us that have a lot of fun, too" Josi said. "It makes us happy being around these kids, and to see how much fun they're having, it's just awesome.
To read the full story click here.