By Gisselle Hernandez, Features Editor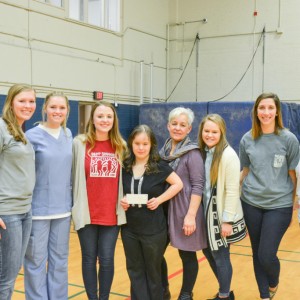 Throughout Hannah Babcock's life, she has heard her fair share of "No, you can't"s when trying to break the norms for people with intellectual disabilities. This time, she confidently said, "Yes, I can!" when she won the Kentucky Council for Exceptional Children's 2016 Yes I Can! Award in School and Community Service in November. She was recently recognized for the national equivalent and will fly to Boston in April to receive the award.
On Friday, the Murray State Best Buddies organization honored Babcock by awarding her a $300 check to help with her expenses for Boston. The Best Buddies organization works with two high schools in the area and each student with an intellectual disability is paired with a Murray State student. Sarah Willmore, president of Best Buddies and senior from Nashville, Tennessee, said they form a friendship and that friendship helps to develop social skills as well as leadership and job opportunities. One of those opportunities, she said, was Babcock's recognition for all she has done for people with intellectual disabilities.
Babcock was one of the founding members of the College to Career Experience (CCE) that was established at Murray State in 2014. That, and her involvement in community theater, was probably what won her the recognition for the award, said Pam Rockwell, Babcock's mother.
"She's worked really hard and is so deserving of it," Rockwell said. "She's done so much to create opportunities for people with intellectual disabilities in the community."
The CCE program allows students with intellectual disabilities to get an education at a post-secondary level, which was a brand-new concept, Rockwell said.
"Hannah and I became aware when she was in middle school of the fact that this was beginning to happen nationwide, and so we began doing research and going to conferences and visiting universities where things were happening like that," she said. "So, we approached Murray State's provost Bonnie Higginson with the concept."
After presenting all the information and bringing in representatives from the U.S. Department of Education, Rockwell said Murray State embraced the idea wholeheartedly.
Babcock also was the first person with intellectual disabilities to be involved in community theater at Playhouse in the Park. Rockwell said when she first attempted to become involved, the past director told her no.
"They said, 'No, she can't do this, which isn't uncommon, but it's the kind of thing parents like me have to learn," she said. "If you want your child to be included, you have to deal with that at first and then learn to continue to move on."
Rockwell said after she insisted Babcock be placed in the production while offering all her support to make it successful, she realized her daughter was a beautiful fit for theater.
"The year before last, the current director, Lisa Pope, brought to Playhouse in the Park a program called the Penguin Project, which is a theater project that casts a major Broadway production entirely with people who have disabilities and they are supported by peer mentors," she said. "We were the first community theater in Kentucky to adopt that as a part of our programming."
Rockwell accompanied her daughter at the Best Buddies event on Friday in Carr Health where all the buddies gave Babcock their support. After painting shirts and eating snacks, Best Buddies' faculty adviser Jamie Mahoney presented Babcock with a $300 check.
"It's a dream come true to be a national winner. I'm so excited," Babcock said.
"[Best Buddies] is a good organization. I'm really glad for my college friends to be here."
Willmore said Best Buddies tries to help people become the best versions of themselves. The organization provides scholarships and provides transportation services so the buddies can have jobs in the community.
"These are the things we really try and jump behind," she said. "We really just try and help them to be a better individual because they face so much scrutiny."
Best Buddies did a talent show last fall and raised almost $1,500. Miranda Brewer, junior from Perryville, Missouri, and treasurer of Best Buddies, said they would go up on stage and do whatever they wished.
"One of the buddies reenacted 'Beauty and the Beast' because he really likes it," she said. "Some other buddies are more shy, so we had them hand out pamphlets. Basically, whatever their skill level and personality is, that's what they did."
Brewer said she joined Best Buddies because she always loved helping out people with special needs. Brewer decided to bring her knowledge to Murray State after being a camp counselor every summer for a program with people with intellectual disabilities.
Babcock goes to Boston in April where she will receive an award for all her advocacies. Rockwell said she is really proud of her daughter for making a change.
"As a result of this, it's not just Hannah that gets to go to college, or Hannah that gets to be involved in the community theater," she said. "It's everybody in our community who has intellectual disability that get to have opportunities they didn't have before. Hannah did that."
To read the full story click here.