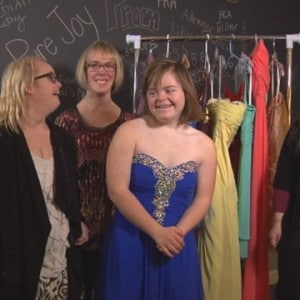 NASHVILLE, Tenn. (WKRN) – A nonprofit organization that helps those with disabilities is hosting a special prom. They're also looking for people to donate dresses to those who will attend.
Best Buddies is an international nonprofit that assists those with intellectual and developmental disabilities make friends and find jobs.
They're preparing for their biggest event of the year: the Best Buddies Prom, which takes place on Feb. 10 at Bridgestone Arena.
Kristen Starcher, the area director for Best Buddies Tennessee, says this event is very important to the organization.
"It's really probably the most rewarding part of my job, the Best Buddies Prom. Just being out there with 2,000 people with and without intellectual disabilities, it's a snapshot of what we want the world to look like."
She continued, "We always say it's pure joy for our participants, and it makes such an impact on the community."
Best Buddy participants who are high school age and above will get the royal treatment.
"My favorite part of prom is basically getting my hair done, my makeup done because I can't really do my makeup that well so to have someone do it for me is a plus," Carolyn Meyer told News 2. And of course, it's all about the dress.
"I'm gonna pick out the most wonderful, breathtaking dress," stated Olivia Decaria.
Best Buddies is looking for breathtaking dress donations so those attending can feel glamorous at no charge.
"Our participants will come out and pick out a free dress, and they'll get to try on whatever dresses they like and just enjoy the day," explained Starcher. "We take all sizes, small to large, anything would be great because we have people of all sizes, and it's nice to have a selection for them to choose from."
The event will also include food, karaoke and dancing, which is something Decaria is looking forward to.
"I love prom for Best Buddies because it's time for me to mingle with my friends and dance until I drop!"
Anyone who would like to donate a dress can drop off their donations at Franklin Road Academy in the middle school office.
This can be done Monday through Friday from 8 a.m. until 3 p.m. The last day to donate is Jan. 27.
To mail in a donation dress, send it to:
Best Buddies
116 Wilson Pike Circle Ste. 201
Brentwood, TN 37027
To read the full story click here.