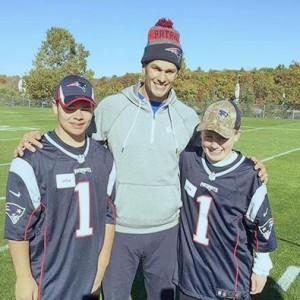 LINCOLN – Longtime friends Ryan Fleming and Jayden Nasif have been fans of the New England Patriots for years, but neither of the Lincoln High School "Best Buddies" members thought they'd have the chance to not only meet one of their idols, but throw footballs around with him, too.
The two LHS juniors met Tom Brady at Gillette Stadium after submitting a video describing their friendship, which Best Buddies advisers say has grown over the years.
Best Buddies is a program that connects students with disabilities with a peer friend. Fleming and Nasif have been together since middle school days.
"We were a little jealous we weren't invited to go," joked Chrisily Genesse, one of the Best Buddies advisers.
Fleming, 16, said with a bit of smirk, "Everyone felt jealous, even my coach from unified sports."
Fleming said he was ecstatic when he learned he and Nasif were chosen to attend a throwing clinic at the stadium in November, along with other Best Buddies members from New England, and have the chance to show Brady a few of their skills.
Fleming showed Brady his "Gronkowski spike," and Nasif said, "Not a lot of people can say that they caught a pass from Tom Brady."
Wearing their personalized Patriots jerseys, the two LHS students spoke of their tour of Gillette Stadium, where they were surprised with autographed gear in the New England Revolution locker room and ran through the same hallway and helmet structure the Patriots exit when heading onto the field.
Fleming, who'd been to his first Patriots game this year, was thrilled to be on the same field where he watched his beloved team play from the stands.
Nasif, 17, who plays on Lincoln High's football team and has attended a Pats game as well, called the experience a "dream come true."
Speaking of Brady, he said, "I know all the guys over there look up to him. He's one of the greatest quarterbacks of all time."
Nasif said he realizes how much work it takes to make it to that field as a professional player, adding that the athletes stay busy in the off-season, too.
Fleming said Brady, "shows good leadership, he shows the great passion of football and he shows great passion of Best Buddies."
The two were nominated by LHS Best Buddies president, Maddy Enos, a senior at the school, to attend the throwing clinic.
It was the duo's friendship video that sparked interest with Alex and Ani, the company that partners with Best Buddies to host the clinic at the Foxboro stadium.
Genesse, who has been involved with Best Buddies for two years, said she's known Nasif and Fleming since they were in 7th grade. She sees them spending time together in school, especially at lunch in the cafeteria, and said advisers have watched their friendship evolve.
The purpose of Best Buddies, she said, is to "build one-on-one friendships, and it does – you see it."
The LHS group meets twice a month, she said, and hosts various events throughout the school year for the students like a pasta dinner fundraiser, Halloween and holiday parties and the annual Best Buddies Ball, where members from across the state get together for a dance. Genesse said currently, there are 40 students in the program, where each grade at the high school is represented.
Genesse and Kelly Lariviere, another adviser to the LHS group, described both Fleming and Nasif as outgoing, kind and always willing to help. The co-advisers encouraged other Lincoln High students to join the club, as did Nasif.
"You can make someone's day just by saying 'hi' to them and interacting with them," he said, and that alone can make the difference.
Fleming and Nasif said they plan to go back to the stadium to see a game some day in the future, but will continue to watch from home in the meantime.
"I can cheer on Brady as long as I need to," Fleming said.
To read full article click here.