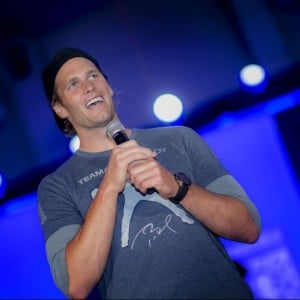 BOSTON, JUNE 6, 2016 – More than 2,500 people participated in the 17th Annual Best Buddies Challenge: Hyannis Port, a run, walk and cycle fundraiser from Boston to Hyannis Port, on June 3-4. The Challenge raised $5.5 million in total donations for Best Buddies International, a nonprofit dedicated to creating opportunities for friendship, employment and leadership training for people with intellectual and developmental disabilities (IDD). Tom Brady, New England Patriots Quarterback and Best Buddies Global Ambassador, served as Honorary Co-Chair and led top fundraising Team Tom Brady to the finish line. Celebrity Chef Guy Fieri and Congressman Joseph P.  Kennedy III joined Brady as the event's Honorary Co-Chairs. John Hailer, President & CEO of Natixis Global Asset Management for the Americas & Asia, served as the Event Chair.
The weekend's festivities kicked off with the Tom Brady Football Challenge and Guy Cooking with Best Buddies Celebrity Chef Food and Wine Festival at Harvard on Friday, June 3. Nearly 4,000 spectators filled the stands for the event to watch Team Pepsi-Cola take on Team Santander, all for a great cause. The game was a close one, but Team Santander came out victorious with a final score of 52-50.
During the game, Brady played quarterback for Team Pepsi-Cola and Team Santander alongside Best Buddies participants, supporters and special guests. Past and present New England Patriots including Danny Amendola, Tedy Bruschi, Julian Edelman, Christian Fauria, Dion Lewis, Dan Koppen, Rob Ninkovich, James White, and Scott Zolak, all joined Brady at the game; along with journalist and New England Native Maria Menounos, and actors Michael Chiklis, Greg Germann, and Jason Lewis.
Guy Cooking with Best Buddies Celebrity Chef Food and Wine Festival, presented by Pepsi-Cola closed out the evening. Headlined by Fieri, the event featured more than 30 chefs from top local restaurants providing food tastings and complimentary wine and spirits options, and several Best Buddies sous chefs helped the pro chefs prepare delicious food for guests and during the festivities. Steve DiFillippo, founder of the world-famous Davio's Restaurant Group and inductee to the Massachusetts Restaurant Hall of Fame, Allen Campbell, chef and author of "TB12's Nutritional Manual", Michael Schlow of Tico, Doretta Taverna & Raw Bar, and Randy Greenstein of Big Night Entertainment Group, all served as Special Chef Vice-Chairs of this event.
On Saturday, June 4, Best Buddies Challenge: Hyannis Port participants turned out in droves for a 100, 50, or 20 mile bike ride and laced up their running shoes for a 5K run/walk. Several of them teamed up with Best Buddies participants and competed on tandem bicycles in the "Friendship Races", including Anthony K. Shriver, Tom Brady and his best buddy, Katie Meade.
The Challenge was capped off by a celebratory clambake and private concert by the legendary Beach Boys, who rocked the crowd with several of their greatest hits. During the festivities, Anthony K. Shriver, Founder and Chairman, Best Buddies International, encouraged guests to "Sponsor a Buddy" (to attend the Best Buddies International Leadership Conference this July) through the Tom Brady Football Toss. Brady tossed signed footballs to guests who paid $1,500 or more for each one, giving numerous buddies a chance to attend the Conference. In total, the football tosses raised more than $100,000 at both Friday's tailgate celebration and Saturday's clambake in Hyannis Port. During the event, Pepsi-Cola was honored with the organization's Spirit of Friendship Award.
"This weekend's Best Buddies Challenge festivities were the embodiment of the organization's mission and it was a pleasure to once again support such a meaningful event, especially given how perfectly it aligns with Santander's commitment to make a difference in the local communities we serve," said Michael Cleary, Head of Consumer and Business Banking for Santander. "Team Santander was thrilled to work with Tom Brady and other athletes, celebrities and Buddies to put points on the board at Friday night's Football Challenge, and to join the 2,500 cyclists victoriously riding into Hyannis Port in support of the cause on Saturday."
This year's Challenge sponsors include: Presenting Sponsors Pepsi-Cola, The Official Beverage of the Best Buddies Challenges, and Santander Bank; Hyannis Port Club Sponsors Hublot, Seyfarth Shaw, Foxwoods Resort Casino, Natixis Global Asset Management, The TJX Companies, Inc. and Greenberg Traurig LLP; Cape Club Sponsors BNY Mellon, Bob's Discount Furniture, CVS Health, The GEO Group Foundation, Inc, John Hancock, NBC/WHDH; Craigville Beach Club Sponsors Blue Cross Blue Shield of Massachusetts, Cooking with Kids Foundation, Crescent Capital Group, Eaton Vance Investment Management, Kobi Karp Architecture and Interior Design, Mark Edward Partners, Pilot Freight Services, Joe Shay, Jr., Teddie Peanut Butter, Vertex Pharmaceuticals, Cannondale, New England Audi Dealers, William Grant & Sons, Ltd., The Official Liquor Sponsor of the Best Buddies Challenge: Hyannis Port, and Media Sponsors CBS Radio/98.5 The Sports Hub, and 90.9 WBUR.
ABOUT BEST BUDDIES INTERNATIONAL:
Best Buddies® is a nonprofit 501(c)(3) organization dedicated to establishing a global volunteer movement that creates opportunities for one-to-one friendships, integrated employment and leadership development for people with intellectual and developmental disabilities. Founded in 1989 by Anthony K. Shriver, Best Buddies is a vibrant organization that has grown from one original chapter to more than 1,900 middle school, high school, and college chapters worldwide. Today, Best Buddies' eight formal programs — Middle Schools, High Schools, Colleges, Citizens, e-Buddies® , Jobs, Ambassadors, and Promoters — engage participants in each of the 50 states and in over 50 countries, positively impacting the lives of more than 900,000 people with and without disabilities around the world. In many cases, as a result of their involvement with Best Buddies, people with intellectual and developmental disabilities secure rewarding jobs, live on their own, become inspirational leaders, and make lifelong friendships. For more information, please visit www.bestbuddies.org, facebook.com/bestbuddies or twitter.com/bestbuddies.
Contact Information:
For media inquiries (including requests for credentials):
Nicole Maddox
305-374-2233 ext. 343
NicoleMaddox@bestbuddies.org
Madari Pendas
305-374-2233 ext.203
MadariPendas@bestbuddies.org
###