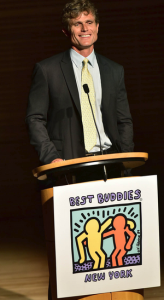 Anthony Kennedy Shriver, founder and chairman of Best Buddies International, is on a fundraising roll for individuals with special needs.
This week Shriver attended an event at Carnegie Hall featuring some of the city's top power players and Questlove from the Roots.
He promoted his organization's "I'm In To Hire" campaign, which works to help people with special needs get jobs, and praised NBA Commissioner Adam Silver for employing individuals with intellectual disabilities at the league's NYC headquarters.
Page Six News Team