Meet Makynna Pickering & Shaylee Staker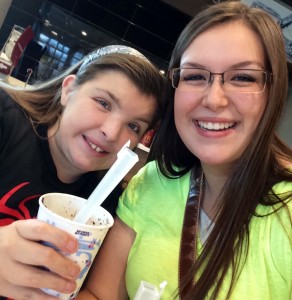 "Before joining Best Buddies, I mostly interacted with the special needs students in my school during our peer tutoring sessions. I have always had a unique connection with the students and wanted an opportunity to become genuine friends with them. When I began high school, I was looking for clubs to join and Best Buddies was brought to my attention. As soon as I realized it was a club centered on students with special needs, I was immediately interested.
"During my time as a peer tutor in middle school, I met Makynna and we instantly hit it off. Once I got to high school and was a member of Best Buddies, I really wanted to be paired with Makynna to continue our friendship. As the years progressed, so did our friendship and so did my involvement with Best Buddies. During my junior year, I became an officer which led to me becoming the Chapter President at Riverton High School. 2014 marks the third year that Makynna and I have been paired. She has become an angel in my life and I consider her a little sister. She is my best friend. Almost daily, I think about how different my life would be without her. There are days when only she can make things better for me. I would not be the person I am today without her in my life.
"Makynna and I love to go to movies and eat ice cream together. Sometimes we will take random trips to McDonald's because that is her favorite place to eat. This year, she went to Homecoming with the SBO President and it was her first dance. I was honored for her to wear the dress I wore to my first dance. She looked like a princess! Just recently, she took a fall while the two of us were walking to the front of the classroom. She severely injured her knee and it landed her in the Emergency Room. When she fell, I was her primary source of trust. It wasn't until that moment that I realized how much she trusted me. Not only is she important to me, but I am important to her and I finally realized that. I was there with her at the hospital and later my family was there to help get her to and fro. I remember feeling so lost when she was absent from school due to her injury. That experience strengthened our friendship in a new way.
"I love Makynna with all of my heart and I would do anything for her. She is my angel on earth and my best friend. No matter where we are or what we do, I find myself grinning from ear to ear because our friendship and her presence in my life brings me pure joy. This amazing friendship would not have been possible without our involvement in Best Buddies."