Zach Smith
National Football League (NFL), New York City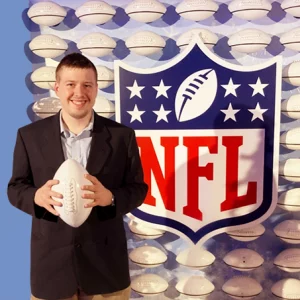 Before becoming involved with Best Buddies, Zach was not very socially active and did not participate in many extracurricular activities. After joining his high school Best Buddies chapter during freshman year, that all changed. Zach made tons of friends, went to parties, and even was named the Best Buddies Buddy Director at his school. This led Zach to have the chance to catch a touchdown pass from Tom Brady at the Best Buddies Challenge: Hyannis Port event in Boston, which Zach says was one of the best moments of his life. From there, Zach went on to join his college Best Buddies chapter and to live and work in New York City. Zach is currently part of the Jobs program and is also matched in a one-to-one friendship in the Citizens program.
One of the biggest challenges Zach faced in 2021 was trying to find a Job. After graduating college in May 2020, he did not have much luck getting responses or invitations to interview. That's when the Best Buddies Jobs team came in. The New York City Jobs team supported Zach in finding employment as a GSIS Statistician at the National Football League (NFL) headquarters, which has been a perfect fit and huge growth opportunity.
"My life has improved in so many aspects since securing my job at the NFL," says Zach. "Not only have I developed amazing social relationships with my co-workers, but I'm now living on my own for the first time in my life. I'm responsible for paying my own rent, cleaning, buying groceries, and figuring out transportation around the city. Not only has my position at the NFL brought me the tasks that a job provides, but has made it so that I have more responsibilities to succeed now that I'm living on my own in the largest city in the U.S."
In this role, Zach is responsible for the support, audit, and process of all NFL and NCAA game statistics for the 2021 season. The skills he has learned have been predominantly technical, but what he loves the most is getting to watch football on Sundays with his co-workers.
When describing his experience, Zach says, "Being in an NFL-related job is one thing, but when you add amazing people to work with in that environment, it doesn't get better than that. Best Buddies has helped me improve my social communication skills, establish close friendships, attend many fun events, and find a job I love. I am very thankful for the opportunities and support Best Buddies has given me since joining."