Tsukasa Richard Nakai
Best Buddies Leadership Development - Ambassador
"My name is Tsukasa Richard Nakai. I am 33-years-old and I am an avid Star Wars fan! My favorite character is Darth Vader. I'm currently involved in the Best Buddies Friendship Program, Ambassador Program and the Jobs Program.
I've been part of the Best Buddies chapter at UCLA since February 2017 and I am currently their Buddy Director. I've been an ambassador since March 2017, and through the Jobs Program, I now work as a part-time employee in the Best Buddies California State Office as an administrative assistant…I love it!
My life prior to joining Best Buddies was one of self-loathing. In October 2000, I had been diagnosed with Asperger syndrome. I had never fully accepted who I was as a person and I was always very self-critical. Despite my achievements, including becoming a published author and a college graduate, I would never praise myself or give myself a kind word.
The one person who helped me on my journey of self-acceptance was one of my colleagues, Tori Braden. When she was Chapter President at UCLA, she asked me if I wanted to become an Ambassador. I replied, YES! — thinking that I wouldn't get asked to do too much, but I was mistaken!
One month after I participated in the Ambassador Training at UCLA, the Program Supervisor of our area called me and asked me if I wanted to do a speaking engagement for one of our sponsors at the Best Buddies Challenge: Hearst Castle! It wasn't until I started interning at Best Buddies state office in California, that I found out Tori had advocated on my behalf. This was unusual; we barely knew each other, but she took a huge risk on me and it paid off for the both of us.
Last summer I attended the 29th Annual Best Buddies Leadership Conference as an ambassador. I went with no expectations, and I was beyond stunned when I was selected to speak at Closing Ceremonies. This all happened because someone saw something greater in me that I didn't see in myself! My life has changed tremendously since February 2017 when I joined Best Buddies on a lark.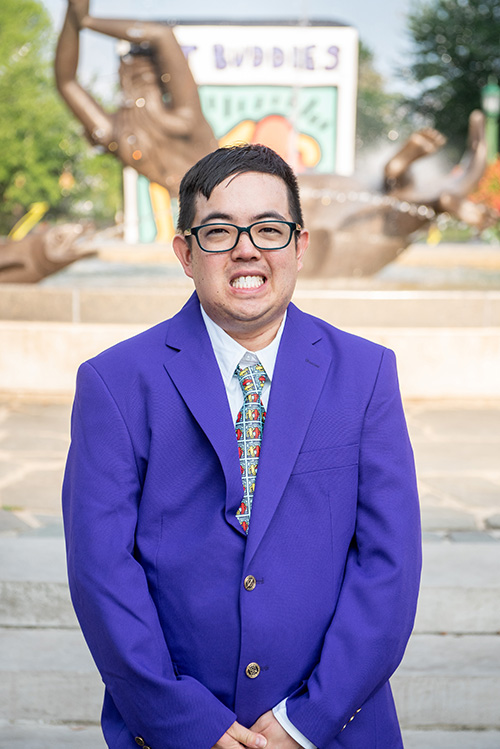 This organization has helped me gain a greater sense of confidence and belief in myself. Best Buddies has helped me open my eyes to my unlimited potential. If you have an intellectual or developmental disability, don't doubt yourself. Use your voice. Don't be afraid to speak up and stand up for yourself!
Be a voice for others, especially if they don't yet have one, and always empower others who do. I want to finish with a quote from our Founder Anthony K. Shriver's uncle, President John F. Kennedy, Ask not what your country can do for you — ask what you can do for your country; Go forth and empower others!