Terence McKnight
Gannett, Capital Region
Terence began working for Gannett in July 2004 as a Finance/Accounting Clerk in the Finance Department.
He learned the value of both kindness and hard work at an early age, with his mother influencing his positive, kind demeanor and his father, a decorated naval officer, helping to instill his strong work ethic. Terence remains close to his parents and is thankful for their ongoing support, whether it is driving him to and from work or encouraging him when he sets new goals.
Terence began working with Best Buddies when he transferred to the People Team as an Associate Human Resources Coordinator in June 2018 and one of the team leaders, who had worked with Best Buddies at another company, made the introduction. Since starting in this new role, Terence has showcased his skill set and talents, continuing to surpass all expectations.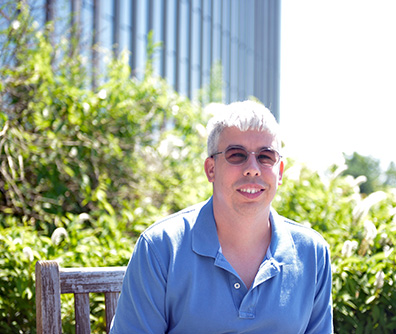 "Terence has been a tremendous asset to our Gannett People Team. He is positive, fastidious in his work and fun to be around." – Dave, Chief People Officer at Gannett.
From day one, Terence has brought the team closer together, renewed our sense of purpose and has helped us appreciate the little things. In addition, Terence has been diligent in completing all of his work … and is a model of efficiency and time scheduling. Terence has also rallied our team to eat together daily in our lunch room – which has had ancillary benefits as it relates to team cohesiveness.
Terence performs administrative tasks that include viewing former employees' pension paperwork, data entry, picking up the mail, shredding documents, copying, scanning and much more. He loves working with others and especially enjoys being one of the first people new Gannett employees meet.
He considers his co-workers friends and says he feels both supported and included by them.
Terence's presence has dramatically changed the work culture. In addition to encouraging his teammates to step away from their computers and have lunch, he also spends time with the group outside of the workplace for brunches and bowling.
Terence is grateful to Gannett and Best Buddies for helping him make the most of his new role, and he believes that other individuals with intellectual and developmental disabilities (IDD) should have the same opportunity to work in such a supportive and positive environment.