Ian and Rohan
Friendship Program Participants in Hawai'i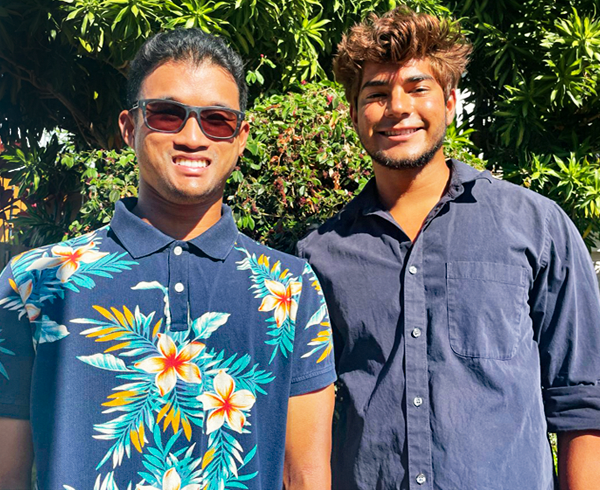 Ian Kahalewai, 22, first heard about Best Buddies in 2018 during his senior year of high school and when he graduated, his mom reached out to Best Buddies in Hawaii staff to see how Ian could join the friendship program. Ian attended a meet-and-greet party at the University of Hawaiʻi at Mānoa campus and became a member. Since then, he has developed the confidence to be himself, and credits his best friend and buddy, Rohan Sridharan. The two have been matched since 2018 and although the pandemic has kept them from seeing each other often, they still text and FaceTime often.
"When I was young, I told my parents I would never make any friends. Then, along came Rohan. We've been best buddies ever since! His friendship has impacted me so much. He's been there for me and supports me and all the people and things I love." – Ian
"Having a friend like Rohan has changed my life," says Ian. "He likes a lot of the same things that I like, such as playing basketball. I have learned how to cook, gotten better at math and I am appreciative of Rohan for introducing me to his sister, brother, and his college friends."
"It's hard to remember that Ian and I met through Best Buddies because it feels like we have always been friends," says Rohan. "When I joined Best Buddies and matched with Ian, I knew we would be great friends because we're close in age, kind of look alike (everyone keeps asking if we're brothers), and like the same kinds of things."
Ian and Rohan's connection is rooted in shared interests and grows stronger every year. They love cooking together, going to sporting events, and celebrating Ian's favorite holiday – Halloween!
 "We transcend the mission of Best Buddies," says Rohan. "I think of Ian as my third sibling. He has gotten to know my friends and family and now he works with my sister at the Department of Health to practice social skills and learn how to navigate within the community. I am thankful for Sandy and Danny (Ian's parents) because they are so supportive of our friendship and welcomed me into their home. I don't have a lot of family here, so having Ian really has helped me, too. Although I am a senior this year, Ian and I will always remain friends and I plan to stay in Hawai'i and create more memories with him."