Billy O'Brien
Jobs program - Eaton Vance
Billy O'Brien began working with Best Buddies in September 2010 after being unemployed, and acquired a position working as an Office Services Assistant through the Best Buddies Jobs program with Eaton Vance Investment Managers in October 2010. Since starting at Eaton Vance, Billy has grown from working part-time (25 hours per week) to working full-time (40 hours per week). He also enjoys employee benefits including health insurance, a 401K and profit sharing. The progression that Billy has achieved at Eaton Vance has been extraordinary. He has grown to successfully take on and contribute to a variety of projects within the mailroom, the print/copy center, the facilities department, and the company café.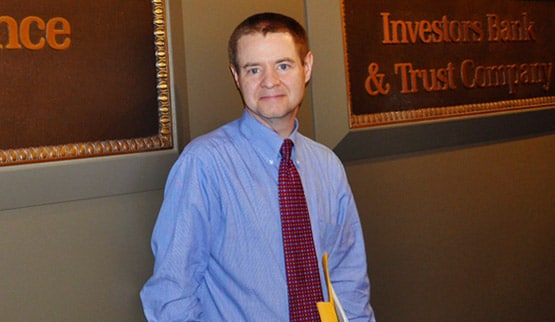 Among his many responsibilities, Billy delivers mail to multiple floors within two wings of Eaton Vance'sdowntown Boston office. This affords him a good deal of interaction with many of the company's approximately 1,000 employees at that location. In fact, employees on each and every floor know him by name and are always happy to see him. In turn, Billy has formed personal connections with most of the employees in the office. Billy's consistent performance, punctuality, dependability, flawless attendance record and willingness to contribute to the team have earned him a great deal of respect among his co-workers.
Beyond Billy's work performance, he and his co-workers have impacted one another greatly in their unified efforts to create a truly cohesive and integrated work atmosphere. Whether they are working on a special project, going on a delivery round or having lunch with his team, one visit to their office makes it clear that everyone is happy to be there.
Eaton Vance employees throughout varying divisions of the company, keeping true to the company's widespread reputation of genuine integrity and personal attention, warmly welcomed Billy as a new member of the team, and have since voiced the fact that they love what he has brought to their work environment. He is a dedicated coworker, a person who enjoys coming to work each morning and has been an inspiration to the entire Eaton Vance community.
Billy's journey from being unemployed to successfully thriving in corporate America is a great testament to the success of the Best Buddies Jobs program. Billy continues to work and grow at Eaton Vance each day. He's a man who loves his job and hopes to continue his career as an Eaton Vance employee for many years to come.
Article featured in Eaton Vance's newsletter.