Patrick Elmore Named Best Buddies in Minnesota 2022 Champion of the Year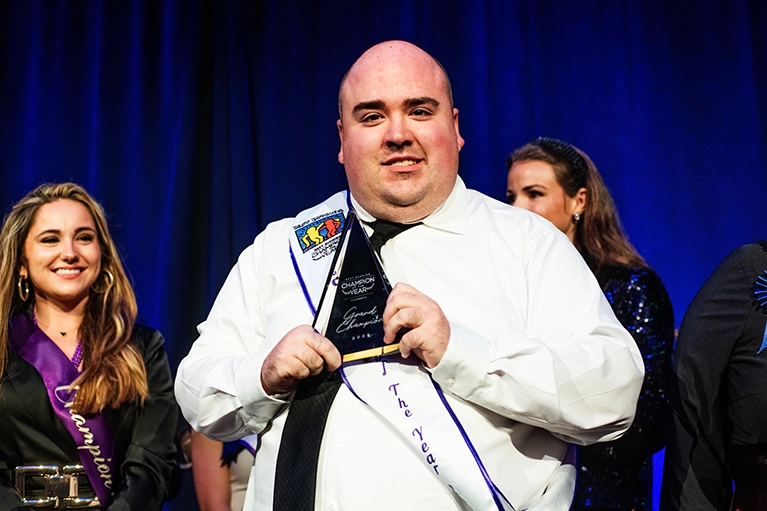 Our 5th annual Champion of the Year gala was a tremendous success, and we are proud to announce Patrick Elmore as our 2022 Grand Champion! He and his Mission Partner, Jessica Scheu, set a Best Buddies Minnesota record raising over $68,000 to support Best Buddies programs throughout the state.
Patrick Elmore is a graduate of Bethel University in their BUILD Program, where he earned a certificate in Business & Communications. Patrick now works in Front End Support at DICK'S House of Sport. Patrick joined the Twin Cities Citizens program over a year and a half ago, where he was matched with his buddy – and mission partner – Jessica. Since then, Patrick has participated in many Best Buddies events such as the Best Buddies Friendship Walk and past Champion of the Year events. Patrick is an avid Minnesota sports fan who enjoys going to events and loves everything Vikings. He is also a fantastic bowler, as his buddy Jessica can attest to.
Patrick was nominated for Champion of the Year by Jessica and graciously accepted the nomination because of his past experiences of being bullied in school. He feels that if everyone had Best Buddies, a lot of bullying in schools would stop.
"I feel honored, happy, and excited [to have won Champion of the Year]. We had a lot of donors, plus some friends share [about our campaign]." – Patrick Elmore
Patrick's success was supported by his – and Jessica's – amazing network: aunts, uncles, cousins, employers, peers, friends of friends, parents, and so many more showed up to support Patrick on his mission for the Grand Champion title. This was truly a team effort!
Best Buddies Minnesota is incredibly grateful to all the 2022 Champions and Mission Partners for their incredible efforts to raise funds and awareness for the Best Buddies mission of inclusion. The 2022 Champion of the Year gala raised more than $250,000 in essential funds to continue growing Best Buddies' one-to-one friendship and leadership development programs in Minnesota.
About Champion of the Year:
Best Buddies Champion of the Year is a competitive fundraising campaign that unites and recognizes the community's most active leaders of inclusion. Champion Candidates commit to raising funds and awareness for Best Buddies over an 8–12-week campaign. Our Champions are advocates for the Best Buddies mission and will generate countless opportunities for friendships, jobs, leadership development, and inclusive living for people with intellectual and developmental disabilities (IDD). At the campaign's conclusion, we will celebrate at the Best Buddies Champion of the Year Gala to honor the Champions' collective impact and name the ultimate Champion of the Year!