Best Buddies Citizens: A Life-Changing Program for Adults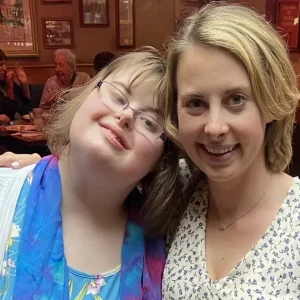 The Best Buddies Citizens program is looking for more volunteers without disabilities!

Join Now
Our adult friendship program, called Best Buddies Citizens, has become so popular that we are seeking more adults without intellectual and developmental disabilities (IDD) to join the program so we can make more life-changing friendship matches.
Adults with IDD experience loneliness and social isolation at much higher rates than those without. People with IDD desire and deserve friendship just like anyone else, but for many, their support network consists of mostly family and paid caretakers. You can make a huge impact on someone's life by just being a friend. Please consider applying today to our Twin Cities or Rochester Citizens programs.
So, what is Best Buddies Citizens?
Best Buddies Citizens pairs an adult with an intellectual and developmental disability (IDD) in a one-to-one friendship with an adult without IDD from their local community. Through the program these two adults, called a buddy pair, develop a mutually enriching friendship, experience life together, and support each other when it's needed most.
This program not only enhances the lives of adults with disabilities, but it also changes the lives of the participants without disabilities. Through learning to see life from a new perspective, people become more understanding, patient, and accepting of others within our community. The Best Buddies Citizens program creates an inclusive and diverse community for all.
What will I do as a volunteer?
A Citizens friendship match is made based on similar age, interests, and geographic proximity. Best Buddies staff conduct a thorough screening process to ensure they are making the right match, based on several criteria. By participating in the program each buddy pair agrees to develop their friendship through weekly communication and spending time together at least once a month. Participants commit to their friendship for at least a year, but many matches often grow into life-long friendships!
Best Buddies in Minnesota also offers fun activities every month that buddy pairs can attend together to meet others in the program. Buddy pairs are also encouraged to do activities like enjoying coffee or food, going to sporting events or concerts, spending time outdoors, playing games or even just hanging out watching TV. Anything that friends would do together!
What type of person are you looking for?
Anyone who wants to be a kind, supportive friend and will commit to actively building a relationship with their new buddy. Prior experience with people with disabilities is not required.
In addition to the Minneapolis and St. Paul area, we have a specific need for:
People who live in or near Wright County, Maple Grove, Minnetonka, Delano, Lakeville, Cottage Grove, Chanhassen, Apple Valley, Bloomington, Stillwater, Rochester, and more
Individuals who are 18 – 35 years old
Male volunteers in their 20s
That said, adults of all ages, genders and locations are encouraged to apply!
I would like to join the program; how do I do that?
If you are interested in participating in the Twin Cities program or the Rochester program, please complete a Membership Application online at: www.bestbuddies.org/join
Once you complete the Citizens application, our team will reach out to coordinate a background check and set up a get to know you call. If approved for the program, you will be invited to group events where you can meet other adults with and without IDD. Then we will begin looking for your perfect friendship match based on age, location and interests.
Who should I contact if I need more information?
If you would like more information, or have any questions about the program, please contact our team at Minnesota@bestbuddies.org.