Mark Lewis
Senior Vice President, Development, Marketing & Technology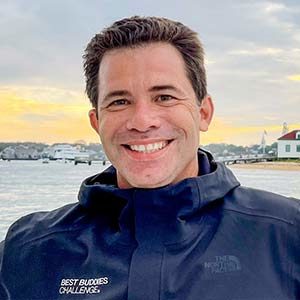 Mark Lewis joined Best Buddies International as a consultant in September 2003 to develop rider recruitment sales and marketing. After achieving extraordinary results with the Best Buddies Challenge: Hyannis Port, Mark was tapped by Anthony Shriver to move to California to launch the first Best Buddies Challenge: Hearst Castle ride in the Fall of 2004. One year later a new marketing, sales, customer service and information technology platform was fully operational resulting in both ride events completely selling out for the first time in their respective histories.
As of 2009, ride revenue has grown more than 400% from when Mark first joined Best Buddies. Today, he serves as Senior Vice President, Development, Marketing, & Technology. In that role, he focuses on launching new events and increasing the profitability of the existing Best Buddies Challenges while developing new non-event and Cause–Related Marketing revenue streams.
Mark comes from a diverse employment background in working for sophisticated blue-chip companies such as Merrill Lynch International Private Bank and Trust and Public Financial Management, as well as in internet startup companies and as an independent consultant and small business owner.
With more than 15 years experience to leverage in corporate business development, ecommerce, investment banking, real-estate marketing, sales and investments, Mark will continue to support the mission and achieve the vision of Best Buddies International.