Brianna Wolfle Named Best Buddies in Delaware 2023 Champion of the Year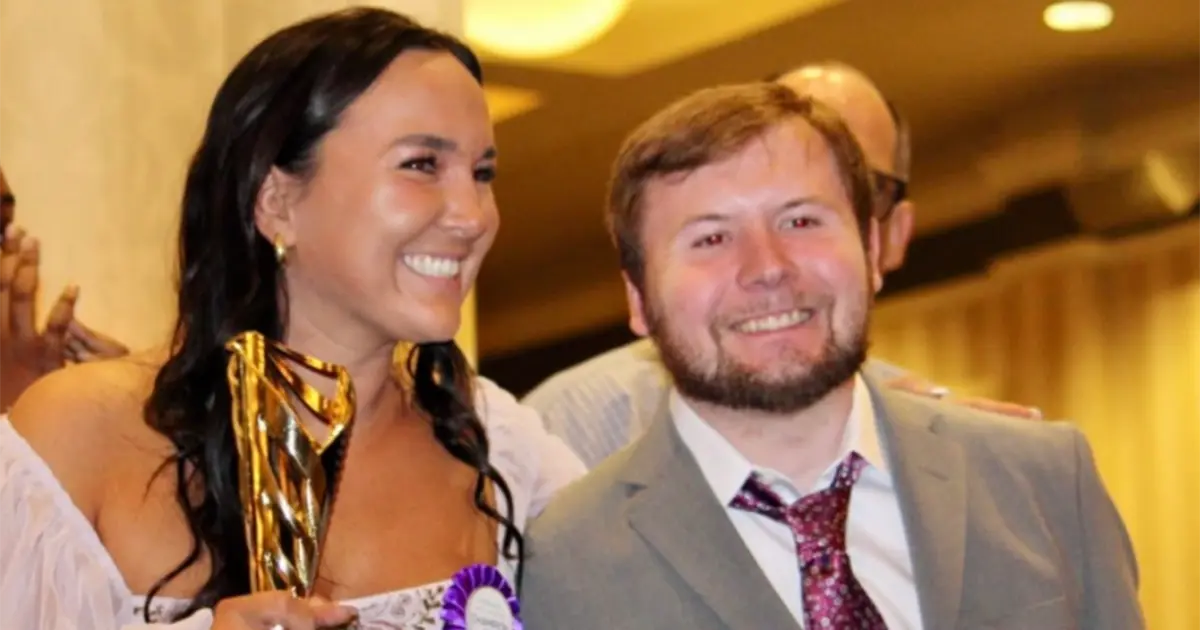 Our 2nd annual Champion of the Year gala was a tremendous success, and we are proud to announce Brianna Wolfle as our 2023 Grand Champion! She and her Mission Partner, Ben Moulder, set a Best Buddies in Delaware record raising over $10,900 to support Best Buddies programs throughout the state.
Brianna Wolfle is the Deputy Director, Programs and Operations, for Best Buddies in Pennsylvania. She is a graduate of Wilmington University, where she earned a Master of Business Administration in Health/Health Care Administration/Management. She is also a graduate of the University of Delaware, where she earned a Master of Science in Health Promotion, concentrated in aging.
Brianna joined Best Buddies in 2017 where she served as Vice President of her chapter at the University of Delaware. Brianna then joined the Citizens Program Best Buddies in Delaware Citizens program over a year ago, where she was matched with her buddy – and mission partner – Ben. Brianna stated, "After being a program participant in college I was so excited to find out about the citizens program for adults. I originally just joined for the events until I met Ben. I remember it was at a bingo event and him and I just clicked. He's been such a great addition to my life ever since and I'm so thankful for the friendship that Best Buddies has given me." Since then, Brianna and Ben have participated in many Best Buddies events such as the Best Buddies Citizens events and the Friendship Walk, where their team was crowned Top Community Fundraising Team.
Brianna was nominated for Champion of the Year by Ellie Townsend and accepted the nomination because of the huge impact Best Buddies has had on her life and how she has watched Best Buddies impact the lives of those around her.
"You know winning was fun especially seeing the look on my buddy Ben's face when they called our names, but it was more about the quality time I got to spend working with Ben" – Brianna Wolfle
Brianna's success was supported by her – and Ben's – amazing network: aunts, uncles, cousins, peers, friends of friends, parents, and so many more showed up to support Brianna on her mission for the Grand Champion title. This was truly a team effort!
Best Buddies in Delaware is incredibly grateful to all the 2023 Champions and Mission Partners for their incredible efforts to raise funds and awareness for the Best Buddies mission of inclusion. The 2023 Champion of the Year gala raised more than $30,000 in essential funds to continue growing Best Buddies' one-to-one friendship and leadership development programs in Delaware.
About Champion of the Year:
Best Buddies Champion of the Year is a competitive fundraising campaign that unites and recognizes the community's most active leaders of inclusion. Champion Candidates commit to raising funds and awareness for Best Buddies over an 8–12-week campaign. Our Champions are advocates for the Best Buddies mission and will generate countless opportunities for friendships, jobs, leadership development, and inclusive living for people with intellectual and developmental disabilities (IDD). At the campaign's conclusion, we will celebrate at the Best Buddies Champion of the Year Gala to honor the Champions' collective impact and name the ultimate Champion of the Year!