Changing Lives, One Job at a Time
John Masterson is a man of many skills and he has the resume to prove it. Since high school, he's always held a job, from a local Blockbuster video store, to Sacramento City College, the YMCA, and an internship within the Department of Justice. In 2007, John landed an internship working in the California Governor's office. The internship was through a program called "We Include," which was started by former California First Lady Maria Shriver. John was also introduced to Best Buddies by Maria Shriver.
Since that time, John has worked in the administrations of three California Governors. He started as a mail room assistant, before being promoted to a constituent affairs assistant. Some of John's job duties include administrative work, delivering the mail, picking up the flags and flying them, and also taking the flags down and presenting them to constituents on special occasions.
John's work in the Governor's office has contributed to both his personal and professional growth.
"One of the things John has matured in since working in the Capital is being able to grow within each administration, said John's mother, Kathy Masterson. Over the course of changing administrations, John has seen many staff members come and go, yet he has remained confident and focused in the midst of constant change."
"John has an incredible work ethic and derives a tremendous amount of goodwill from work and consequently, being someone with an intellectual disability, we need to see them out in the world contributing to society, and made visible for everyone to see," said John's father, Mark Masterson.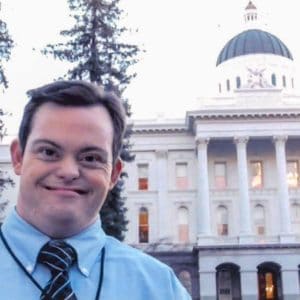 John loves working and when asked about his 3-5 year career plan, he makes it very clear that there is no place he'd rather be than the Governor's office.
"I love my job…I can't see myself working anywhere else," said John. "Working keeps me focused and it keeps me going."
This month, the Masterson family will attend the annual Best Buddies Challenge: Hearst Castle in California as they've been doing for many years. To date, they have raised nearly $30,000 for Best Buddies through this event.
"We're very appreciative of the friendship and employment initiatives that Best Buddies provides for individuals within the IDD community, said Kathy Masterson. "Being a contributing member of society, whether volunteer or paid work, is critically important not only to what you provide to other people, but also to your own self-esteem, it's a win-win for everyone."