Mack Cycle & Fitness Donates $30,000 to Best Buddies International in Support of Individuals with Intellectual and Developmental Disabilities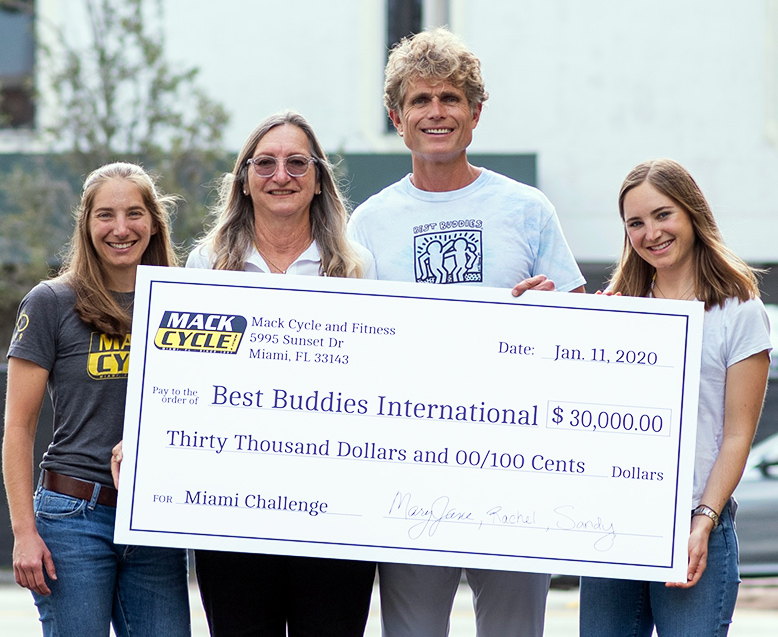 MIAMI, FL – March 4, 2021 – Since 2013, Mack Cycle & Fitness has been a dedicated partner of Best Buddies and the life-changing work the organization does in support of individuals with intellectual and developmental disabilities (IDD). Sponsoring the Best Buddies Challenge: Miami formally introduced Mack Cycle to the community of people the nonprofit serves and since that time, the company, led by Mary Jane Mark and her daughters Rachel and Sandy Losada, continues to exemplify the true spirit of Best Buddies through their leadership and generosity.
In January 2021, Mack Cycle donated $30,000 to Best Buddies which will be used to support the Best Buddies Challenge: Miami and expand the organization's programs of one-to-one friendship, integrated employment, leadership development, and inclusive living to people within the IDD community.
In addition to the company's financial support, Mack Cycle has made the Best Buddies Challenge events a family affair, with Rachel and her father Mark Losada cycling for the cause, while Mary Jane and Sandy manage the support vehicles and media opportunities on-site. Additionally, Mack Cycle has employed several Best Buddies Jobs participants over the years at its South Miami bike shop and generously donates bikes, resources, and more to execute Best Buddies cycling events that raise much-needed funds and awareness for the organization's mission.
"Getting to know members of the Best Buddies community opened our eyes to a world of possibilities," said Mary Jane Mark. "It validated our core values as a business, and made us aware of the lack of opportunities people with IDD have to enjoy things that we sometimes take for granted, like friendship and meaningful employment."
"Best Buddies is incredibly grateful to have Mack Cycle as a loyal, dedicated partner for inclusion and the work Best Buddies is doing all across the globe," said Anthony K. Shriver, Founder and Chairman of Best Buddies International."
"Year after year, Mack Cycle continuously improves our Challenge experience for cyclists, and their financial contributions allow us to strengthen and expand our programs into more schools and communities in South Florida and beyond. I am confident that Mack Cycle's ongoing support through this multi-year commitment will continue to help Best Buddies change the lives of people with special abilities through the power of friendship, jobs, leadership development, and inclusive living," said Shriver.