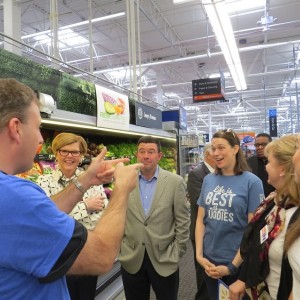 The inspiration arrived over tea and small chat at a State House reception. Valerie Sununu, only a few weeks as first lady of New Hampshire, organized the social event to raise Down syndrome awareness.
She was discussing her new role with Best Buddies state director Sarra Dennehy, who was there with her son, and they all just bonded. Mrs. Sununu, an advocate for inclusion, immediately said yes to being an official ambassador for the organization dedicated to ending the social, physical and economic isolation of people with intellectual and developmental disabilities.
"We both had tears in our eyes," Sununu said. "It was a natural step for me. This is right in my wheelhouse."
Sununu, who has worked as a special education teacher, has made regular visits to schools across New Hampshire since becoming the state's first lady. Typically twice a week, she stops by a different public school and reads and speaks with children.
Sometimes she does so with a message tailored to the Best Buddies mission.
The first lady will be at her first event with Best Buddies for a Friendship Walk on Saturday, 10 a.m., at the State House. More than 500 people have registered for the event so far.
Sununu spoke about her participation last month when she and Gov. Chris Sununu stopped by Wal-Mart in Manchester as it presented a $25,000 donation to Best Buddies.
To read the full story click here.