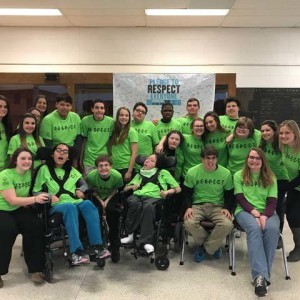 A basketball team of Delaware Valley Regional High School students, both players with disabilities and those without disabilities, recently competed with similar teams fielded by North Hunterdon and Voorhees high schools.
The team is called "unified," and that's the point – to foster "meaningful relationships between students with disabilities and their peers without disabilities," said special education teacher Tiffany Kuhl, who is faculty adviser to the program.
Unified Sports has three parts, explains Frank Guenther, Del Val's director of special services. Besides interscholastic basketball, those elements are intramural volleyball, and a Unified Physical Education class that is in the works for the 2017-18 school year.
Coach Mike Haughey has no trouble changing gears from his gruff football approach to a softer mode with his Unified basketball team. (courtesy photo)
A New Jersey Special Olympics grant "to move these initiatives forward totals $15,000, with $5,000 allocated for this school year and the following two years," said Guenther.
"Unified Sports is not a special education program," he said. "It's based on recognition that all individuals can be active participants in the life of the school community. It builds on the successful Best Buddies program that has been in existence for several years."
Hunterdon County's three high school teams played each other in March, and, on Sunday, took part in the Special Olympics' Annual Shriver Cup held at Princeton University. Voorhees High School took fifth overall.
The tournament featured 15 high school teams from across New Jersey, including three from Hunterdon County.
To read the full story click here.