Max Sullivan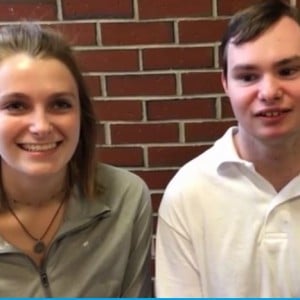 HAMPTON — Micah Addison and Meaghan Cooper are best buddies at Winnacunnet High School. Addison loves to go bowling, listen to music and watch "Star Wars," and he's shared those passions with Cooper since they were paired through WHS' Best Buddies International chapter.
Because of Best Buddies, Addison, who has borderline cerebral palsy and is developmentally challenged, has seen his network of friends rapidly increase and his confidence improve since meeting Cooper. He's one of 21 students and graduates in the school's special education department that has benefited from the group, which helps those with special needs connect with people they may otherwise never meet.
Pairs hang out at least twice a month together, solidifying a stronger connection between the special education department and the rest of the student body.
"Meaghan and I are king and queen," said Addison, 19, and who graduated last year. "We decided that."
Cooper said Best Buddies has meant a lot to her as well. The two recently went to see the new "Star Wars" movie "Rogue One." Addison cheered when Darth Vader appeared on the screen and sang the "Star Wars" theme song.
"He was clapping and cheering. It was so fun," said Cooper. "It means the world to me to know that Micah gets so excited when we hang out… I would have never met Micah if it wasn't for Best Buddies."
The WHS chapter of Best Buddies formed only a year ago, but it has quickly grown to being the largest high school chapter in the state with 71 members and 21 buddy pairs. It was started by Jana Bushway, a senior at WHS who is now the chapter's president. She previously went to a school in Washington, D.C., that had a strong Best Buddies program. When she came to Hampton, she believed it was important to get a chapter going at WHS. The group is mentored by Susan Allen, a teacher in the special education department.
Bushway is proud of the growth her group has made in such a short amount of time. Her buddy, a freshman named Emily, has also opened up socially since the two were paired. Emily cannot speak, but she can communicate with hand signals and texts. Sometimes they just jam to Katy Perry and need no words.
Students like Emily not only enjoy the friendship of their buddies, but many for the first time have a familiar face outside the special education department. That friendship leads to interaction with more new friends in the school's hallways as well.
Bushway has received significant feedback from parents of children with disabilities since launching the group.
"It's changed the families," Bushway said. "I have a lot of parents coming up to me and telling me they finally see hope in their kids. They feel like they can be accepted now."
Joyce Addison, Micah Addison's mother, said she has seen improvement in Addison's social confidence. At the beginning of their friendship, Micah Addison was much shyer, and Cooper had to call him to get him to hang out. Now, he calls her often.
Micah Addison, a self-proclaimed "classic country guy," said he recently sang Merle Haggard's "Mama Tried" to Cooper.
"It's a wonderful program," said Joyce Addison. "Usually people or kids with special needs don't really have too many friends to do things with, so the Best Buddies program provides that friendship and companionship, which is great for the kids."
To read the full story click here.