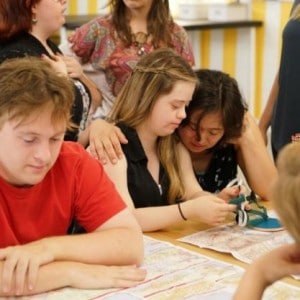 By: Marc Silver
Dear Emmy voters,
Congratulations! You got it right by giving the Emmy for outstanding unstructured reality program to "Born This Way."
"Born This Way" is the rare reality show that features characters who are neither petty nor inane and that has a greater purpose than keeping up with the Kardashians — which is ironic, because the same production company, Bunim/Murray, also brings us "Keeping Up With the Kardashians."
The program, now finishing up Season 2 (10 p.m. Tuesdays on A&E), looks at a group of people who are practically invisible on TV: the 400,000 Americans with Down syndrome. And what the show does is remarkable. As the nonprofit advocacy group RespectAbility puts it, " 'Born This Way' breaks down stigmas."
Each episode follows seven young adults doing what everyone in their 20s does: seek a career, have fun, build friendships, look for love. Their quests are complicated by the developmental challenges that can be associated with the condition — which one of them, Steven, jokingly refers to as "Up syndrome."
In the most recent episode, Megan moves to Los Angeles, leaving behind the security of life with her mom in Colorado. Steven and Sean plan a dance party. Rachel learns she is pre-diabetic and needs to tame her sweet tooth.
At a housewarming for Megan, they talk about their fears — starting with thunder and moving to existential dilemmas. "I'm scared of how to teach myself how to live by myself," says Megan. When Sean says, "Don't be sad, you've got us," the genuine love and support brought a tear to my eye.
But the show isn't just an inspirational postcard. Sometimes the protagonists are childlike (hmmm, just like the rest of us) and tensions erupt. Annoyed by Sean's crush on singer Meghan Trainor, Megan says, "That fantasy … is never going to happen." A wounded Sean says of Megan, "She's not my friend anymore." Steven advises, "You know what people do when they're scared — they push people away."
To read the full story on the Washington Post site click here.