Benefiting Best Buddies International
Miami, April, 29, 2016 — on Saturday April 23, Best Buddies International, a groundbreaking nonprofit founded in 1989 by Anthony K. Shriver to establish a global volunteer movement that creates opportunities for one-to-one friendships, integrated employment and leadership development for people with intellectual and developmental disabilities, hosted its 6th Annual South Florida Friendship Walk at Museum Park in Downtown Miami. Pop Artist and Best Buddies Global Ambassador Romero Britto served as this year's honorary chair for the event.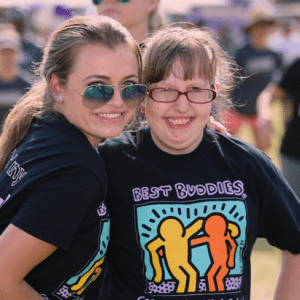 More than 2,000 people attended the Friendship Walk and the event raised over $400,000 in total donations, a record for the organization.
"What I love about the Best Buddies Friendship Walk is that it brings everyone together, from the kid fundraising on Facebook to huge corporations that want to give back—the whole spectrum is represented," said Erika Hoyos, Best Buddies staff member and Citizens Team Captain. "We are helping a whole community feel loved with these events all across the nation and I am so proud to have been a part of our Walk here in South Florida."
The day kicked off with energetic music and WSVN news anchor and Best Buddies supporter Craig Stevens, who welcomed everyone to the Friendship Walk. The event had several family-friendly activities such as a petting zoo, face-painting, photo booths, and bounce houses. Alexis Greenberg, who has been involved with Best Buddies for over ten years and a top fundraiser, performed a beautiful rendition of the National Anthem.
The event also brought together some of Miami's most notable residents and celebrities — the Miami Heat Cheerleaders autographed photos for participants; Miss Florida USA 2016 Brie Gabrielle and Miss Florida Teen USA 2016 Grace Smith posed with participants; and Miami Beach Mayor Philip Levine and Hialeah Mayor Carlos Hernandez engaged with and motivated participants across the finish line.
Following the Walk, Best Buddies International Founder and Chairman, Anthony K. Shriver recognized the top fundraising teams:
Top Corporate Teams:
Team Jacob/IPC ($45,896)
Crown and Anchor/ Royal Media Partners ($22,638)
Starwood Property Trust ($22,371).
Top Community Teams:
Team Scott Tracy ($16,648)
Citizen Buddies ($13,755)
Team Lucas ($13,135)
Top Schools:
Carrollton School of the Sacred Heart ($10,425)
Cypress Bay Senior High School ($5,716)
Marjory Stoneman Douglas Soaring Eagles ($4,103)
Buddy pairs, teams, and supporters traversed the 5K course alongside the scenic Biscayne Boulevard. The Walk began and concluded at Museum Park where participants were treated to lunch generously provided by Subway. Afterwards the participants were invited to dance and celebrate their achievements by visiting many of the activity booths.
Notable teams and sponsors, who raised over $5,000, include: IPC; Royal Media Partners; Starwood Property Trust; Holland & Knight; Gray Robinson; MasterCard; Celebrity Cruises; Accessible Home Health Care; Tusk Ventures; City of Hialeah; Team Britto; Inktel; Miami Design District; TUUCI; Tom Godart Florida Real Estate; Nordstrom; and Pension Services Inc.
The 2016 Best Buddies South Florida Friendship Walk was an undeniable success!
ABOUT BEST BUDDIES INTERNATIONAL:
Best Buddies® is a nonprofit 501(c)(3) organization dedicated to establishing a global volunteer movement that creates opportunities for one-to-one friendships, integrated employment and leadership development for people with intellectual and developmental disabilities. Founded in 1989 by Anthony K. Shriver, Best Buddies is a vibrant organization that has grown from one original chapter to more than 1,900 middle school, high school, and college chapters worldwide. Today, Best Buddies' eight formal programs — Middle Schools, High Schools, Colleges, Citizens, e-Buddies® , Jobs, Ambassadors, and Promoters — engage participants in each of the 50 states and in over 50 countries, positively impacting the lives of more than 900,000 people with and without disabilities around the world. In many cases, as a result of their involvement with Best Buddies, people with intellectual and developmental disabilities secure rewarding jobs, live on their own, become inspirational leaders, and make lifelong friendships. For more information, please visit www.bestbuddies.org, facebook.com/bestbuddies or twitter.com/bestbuddies.

For more information:
Joshua Tessier
305.375.2233, ext. 211
JoshuaTessier@bestbuddies.org
For media inquiries:
Best Buddies International:
Nicole Maddox
305-374-2233, ext. 343
NicoleMaddox@BestBuddies.org
Madari Pendas
305-374-2233, ext. 203
MadariPendas@BestBuddies.org
###