Benefiting Best Buddies International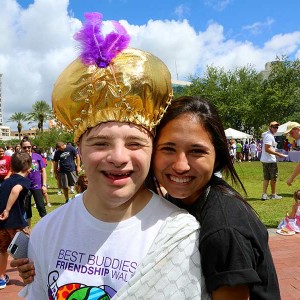 Miami, March 23, 2016 – Best Buddies International, a groundbreaking nonprofit founded in 1989 by Anthony K. Shriver to establish a global volunteer movement that creates opportunities for one-to-one friendships, integrated employment and leadership development for people with intellectual and developmental disabilities, is pleased to announce its 2016 South Florida Friendship Walk at the Museum Park on Saturday, April 23. The event will feature the state walk honoree, long-time Best Buddies supporter and employer of individuals with IDD, Holland & Knight, an international law firm that has been recognized for its leadership in employing individuals with IDD. The Best Buddies Friendship Walk in South Florida is the latest life-changing movement created By Best Buddies. Since 2009, more than 55,000 participants have walked in more than 26 states and three countries, raising more than $5 million for Best Buddies. The Friendship Walk changes lives, as participants walk for inclusion, friendship, leadership, and opportunity for people with and without Intellectual and Developmental disabilities (IDD).
"We are thrilled to host the Friendship Walk and further involve the South Florida community with Best Buddies," said Anthony K. Shriver, Founder and Chairman of Best Buddies International. "This community is passionate about supporting Best Buddies' mission of friendship and social inclusion. It is such an incredible feeling to know that every participant and team is walking to improve the lives of those with IDD, and to create a more inclusive work force for those with special needs."
The event will bring together some of South Florida's most notable residents and celebrity supporters. Among those expected to attend this year are: Anthony K. Shriver; Pop-Artist Romero Britto; Miami Beach Mayor Philip Levine; Desperate Housewives of Miami actors; Miss Teen USA 2015 Katherine Haik and Miss USA 2015 Olivia Jordan; WSVN Anchor Craig Stevens; Major League Baseball legend Sammy Sosa; the NBA's Miami Heat Cheerleaders; and many more. Best Buddies South Florida is proud to have 3,000 (and counting) participants lacing up their shoes to walk for inclusion this month. Registration begins at 9 a.m. and commences at 10 a.m. at Museum Park in Downtown Miami, 1075 Biscayne Boulevard. Following the Walk, please join Best Buddies for a day of fun, family, fitness and friendship.
Those interested in participating in the Friendship Walk are encouraged to register on the walk website: bestbuddiesfriendshipwalk.org/southflorida. Participants can create or join a team to raise awareness and funds with family, friends, and co-workers. Best Buddies South Florida also welcomes volunteers for the day of the event. Volunteers may also register on the Friendship Walk website.
Proceeds from the Friendship Walk play a fundamental part in funding our state programs that provides one-to-one friendships, leadership development and integrated job opportunities for individuals with IDD. These programs can be found in all 50 states and will create promising opportunities for more than 350,000 people this year.
Walk for inclusion. Walk for friendship. Walk for a better community.
Friendship Walk sponsors include: Royal Media; Starwood Property Trust; Holland & Knight; Gray Robinson; Inktel; City of Hialeah; Accessible Home Healthcare; MasterCard; Tusk Ventures; Design District; Britto; TUUCI; City of North Bay Village; Nordstrom; Turnberry; Celebrity Cruises; Genovese Joblove and Batista; FedEx; Mercedes-Benz of Coral Gables; Foster Morales; Riverloft Capital; Hollywood Animal Hospital; Zumba.
ABOUT BEST BUDDIES INTERNATIONAL:
Best Buddies® is a nonprofit 501(c)(3) organization dedicated to establishing a global volunteer movement that creates opportunities for one-to-one friendships, integrated employment and leadership development for people with intellectual and developmental disabilities. Founded in 1989 by Anthony K. Shriver, Best Buddies is a vibrant organization that has grown from one original chapter to more than 1,900 middle school, high school, and college chapters worldwide. Today, Best Buddies' eight formal programs — Middle Schools, High Schools, Colleges, Citizens, e-Buddies® , Jobs, Ambassadors, and Promoters — engage participants in each of the 50 states and in over 50 countries, positively impacting the lives of more than 900,000 people with and without disabilities around the world. In many cases, as a result of their involvement with Best Buddies, people with intellectual and developmental disabilities secure rewarding jobs, live on their own, become inspirational leaders, and make lifelong friendships. For more information, please visit www.bestbuddies.org, facebook.com/bestbuddies or twitter.com/bestbuddies.
For more information:
Joshua Tessier
305.375.2233, ext. 211
JoshuaTessier@bestbuddies.org
For media inquiries (including requests for credentials):

Best Buddies International:
Nicole Maddox
305-374-2233, ext. 343
NicoleMaddox@BestBuddies.org

Madari Pendas
305-374-2233, ext. 203
MadariPendas@BestBuddies.org