Ambassadors Educational Track
Best Buddies Ambassadors is a program that provides training for participants with and without intellectual and developmental disabilities (IDD) in areas of leadership, self-advocacy, and public speaking. The Best Buddies Ambassadors program creates opportunities for participants to share their story, advocate for inclusion, network, and promote the Best Buddies mission.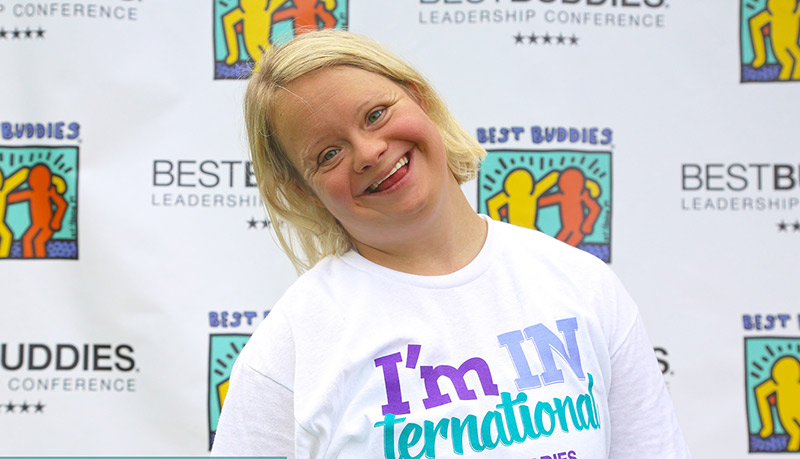 At the Annual Best Buddies Leadership Conference, the weekend-long ambassador training provides attendees with a comprehensive and engaging education experience with a strong emphasis on what it means to be a leader and what it takes to be an advocate for yourself and others. Trainings will be comprised of large group sessions, breakouts, guest speakers, professional development, and roundtable discussions. The primary focus of the training will be leadership and advocacy, though a large component will train participants to effectively connect with an audience through speech writing and public speaking. The two training tracks available throughout the weekend's trainings are:
Novice: This track is an introduction to speech writing and will focus on the basics of developing a speech and speech delivery. This is ideal for brand new ambassadors and ambassadors who are still perfecting their craft.
Advanced: This track is for ambassadors with public speaking experience at the local or national level. The focus will be on editing your existing speech and developing advanced presentation and delivery skills.
Application Process
In order to be considered to attend conference as a Best Buddies Ambassador, all interested participants must submit a completed application to their Best Buddies staff contact no later than May 1.
Applications will be reviewed and approved on a first-come, first-serve basis; all applications will be approved no later than May 8. Once an application has been approved, ambassadors will be provided instructions to register for the Best Buddies Leadership Conference.
Due to the fact that the ambassador track is a specialized training course requiring additional support and logistics, space is limited. Ambassadors will be approved for the program on a first-come, first-serve basis. If you are interested in participating in an Ambassadors training track at the Best Buddies Leadership Conference, do not wait until the May 1 deadline to apply. Speak to your Best Buddies staff contact to receive an BBLC Ambassadors Application today!