Project: Inclusion 2018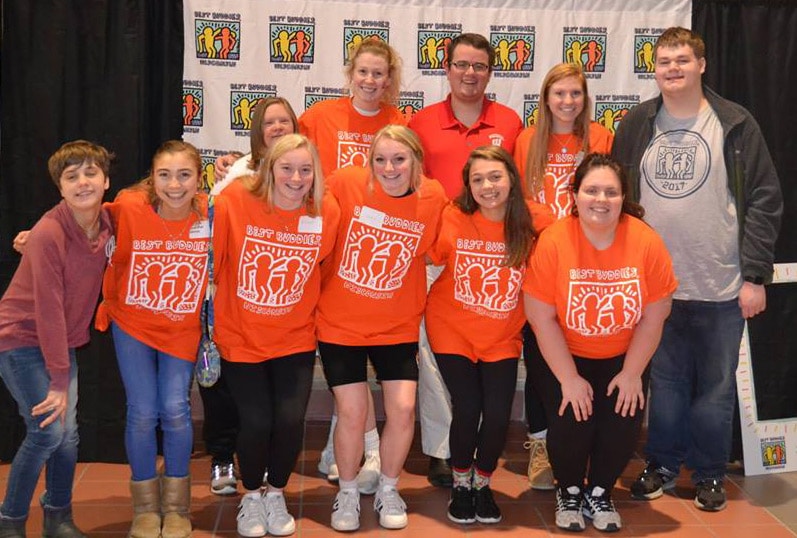 On January 27, 2018, nearly 200 Best Buddies student leaders, faculty advisors, and parents came together for our annual Project: Inclusion event at the Divine Savior Holy Angels High School. This year's event featured an advanced ambassador training, guest speakers, and workshops focused on the ideas of disability awareness, inclusion, and leadership development. Through team building and idea sharing, chapter leaders left Project: Inclusion feeling inspired and reinvigorated!
Cindy Bentley, a motivational speaker, activist, and Global Messenger for Special Olympics started off the day with a powerful keynote address urging participants to live to their fullest potential and embrace their abilities.
Megan Weil Murray of Life Navigators led a disability sensitivity training for our middle school, high school, advisor and parent participants.
Peg Grafwallner, parent of Ani, a longtime Best Buddies participant, and trained Ambassador, shared the story of Ani's journey with our middle school and high school participants and the importance of building strong friendships.
Alyssa Chang of FOCUS Training led a special session for college participants centered on teamwork and creative problem-solving. Groups were asked to create a unique invention to present to a designated CEO.
Chelsea Budde and Denise Schamens of Good Friend Inc led a dynamic presentation for our advisors and parents participants about the importance of fostering neurodiverse friendships in our schools and communities.
Project: Inclusion also featured a World Café session where all participants engaged in a conversation to build upon their role in Best Buddies and the disability rights movement.
Additionally, seven Ambassador participants from chapters across the state attended our advanced ambassador training. Ambassadors worked one-on-one with speech coaches to edit their message and practice their presentation skills. Ambassadors were able to showcase their speeches by presenting to the entire audience during the closing session of the event!