Project: Inclusion 2017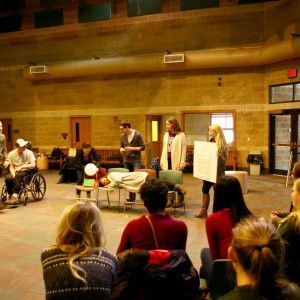 On January 28, nearly 150 Best Buddies student leaders came together for our annual Project: Inclusion training at the Northwest YMCA. This year's event featured an advanced ambassador training, as well as guest speakers and workshops focused on building an inclusive community and improving leadership skills.
Damian Buchman of The Ability Center kicked off the day with an inspirational keynote address urging students to set their goals and innovate to reach them when obstacles get in their path.
Arden Stone, a member of the Best Buddies 5 Star Walk Team, came all the way from Texas to share tips and tricks for Friendship Walk success.
Peg Grafwallner is the parent of one of our longtime Best Buddies participants and trained ambassador Ani. Peg shared the story of Ani's journey with our advisors and also spoke with our high school participants about building strong friendships and supporting their buddies.
Alyssa Chang of FOCUS Training led a special session for college participants centered around teamwork and creative problem solving. Groups were asked to create an unique invention to present to a designated CEO.
Shelly Runte shared lessons from her journey to build Kayla's Playground, an inclusive playground in Franklin, WI.
The training also featured a World Café where leaders from throughout Wisconsin were able to share ideas with each other. Our ambassadors worked hard all morning to edit and practice their speeches and we were lucky enough to have three ambassadors perform on the main stage.
Visit our Facebook Photo Album for more pictures of Project: Inclusion.
Best Buddies was able to provide participants with breakfast and lunch due to the generous donations of a number of local businesses. We appreciate the support of Firehouse Subs Mayfair, Einstein Bros Bagels – Ogden & Jackson, Olive Garden, Olive Garden, Chick-fil-A at West Allis Center FSU, Buffalo Wild Wings and Bunzel's Meats and Catering!