Fall is for Friendship
Best Buddies Wisconsin school friendship programs continue to grow with nearly 650 buddy pairs in 50 chapters throughout the state.
Forming friendships is what Best Buddies is all about! Fall is a very busy season for our school friendship programs. During the month of October, our middle school, high school, and college chapters host Match Parties to reveal their chapter's new buddy pairs for the year.
Prior to the Match Parties, our chapters spend several months recruiting, interviewing, and training their new and returning members to make compatible matches. Chapters take unique approaches in planning their Match Parties; from creative games to tricky riddles, our chapters work hard to come up with different ways to announce their matches.
Match Parties are also a great opportunity to connect with parents. We encourage chapters to invite parents to their Match Parties so they can witness our mission in action! Best Buddies Wisconsin also sends a staff member to each party to share program guidelines, tips for supporting their child's friendship, and info about upcoming Best Buddies Wisconsin Events. It's important for both peer buddy and buddy parents to get to know each other so they can engage in their child's friendship and the mission of Best Buddies. Parental support is very beneficial for communication, especially when their child does not have a cell phone or means to communicate independently.
Highlights from some of our school friendship program Match Parties include:
Pewaukee High School
This chapter pulled some strings to make sure the buddy pairs were excited about forming friendships! They had their school cheer team attend to form a tunnel with their pom poms. As matches were announced, the buddy would run through the tunnel and meet their peer buddy on the other side!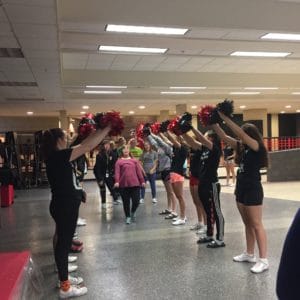 Concordia University
Our Concordia University chapter hosted a Halloween dance for their Match Party. Everyone dressed up in their favorite costumes, enjoyed vampire cookies, and danced the night away!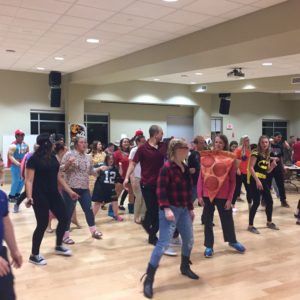 Germantown High School
Germantown High School revealed their matches using puzzle pieces. Not only did the buddy pairs' pieces fit each other, but all of the pieces fit together to make one big puzzle. The chapter used this activity to talk about the importance of inclusion and how they all belong together in their school and community.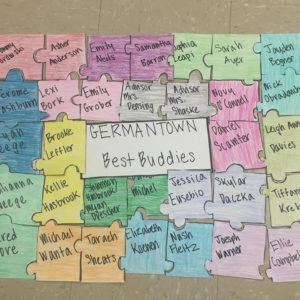 Mukwonago High School
Buddy pairs and families at Mukwonago High School worked together to carve pumpkins to be showcased at their community's annual Jack-o-Lantern Jaunt. Students and parents were also treated to a delicious potluck dinner!
Riley Grainger, the chapter president at Kettle Moraine High School shared with us her experience at her chapter's Match Party this year:
This month was our chapter's Match Party and it was so much fun! The buddies and peer buddies found their matches by opening a "trick or treat basket" that contained a card which had their buddy's name on it. It was a really cool way to reveal matches and incorporate the upcoming holiday! After our matches met each other the peer buddies had the opportunity to connect with their buddy's parents, then do some fun activities, like turning people into mummies, with the associate members! I am matched with my buddy, Emma, for the second year in a row and I am SO excited! We already have plans to hang out next week and celebrate her birthday.
We encourage you to get involved by volunteering or making a donation to support our efforts to make Wisconsin more inclusive!