Best Buddies Leadership Conference 2018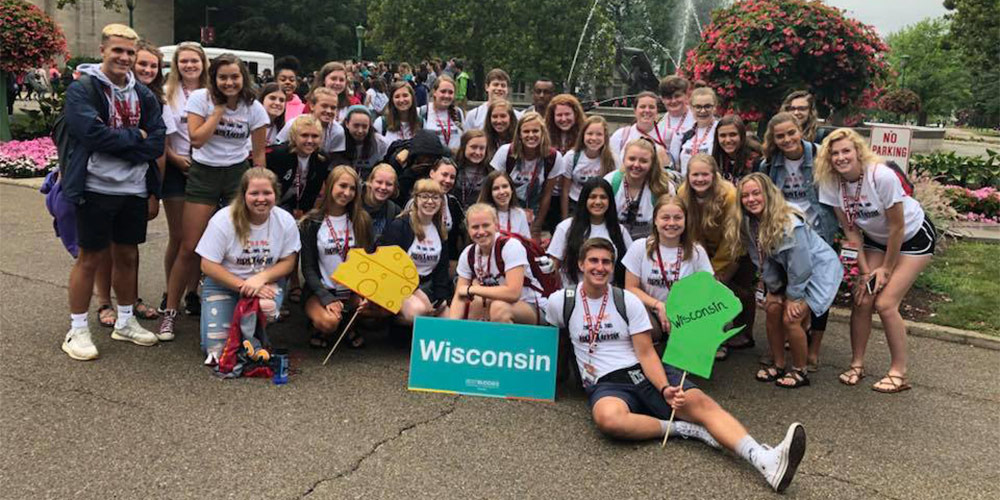 Best Buddies Wisconsin welcomed 64 participants from across the state to the 29th Annual Best Buddies Leadership Conference in Bloomington, Indiana. These high school and college students, ambassadors, volunteers, and staff met almost 3,000 Best Buddies participants from around the world, all while strengthening their leadership skills.
I have always had a heart for advocating for people with disabilities. My older brother has a disability and I have seen firsthand how he has struggled to finish school and how he has fought hard to get and keep his community job. Having an 'invisible disability' has made his struggle even more difficult. I am passionate about ensuring our community is inclusive of everyone, regardless of their ability. In my pursuit of this goal, I became involved in Best Buddies while in college at Drake University in Des Moines, Iowa.
This was my very first Leadership Conference. I was told this would be a life-changing experience, but WOW I had no idea! The Opening Ceremonies on Friday night were magical. Anything and everything you could imagine was there from musical performances, dance numbers, moving speakers, bright lights and confetti cannons. It was the perfect way to kick-off this fun-filled weekend all about inclusion.
The following days were jam-packed with speakers like Jimmy Page, who taught us the power of a word, Jennifer Powers, who spoke about the importance of "shifting" our thoughts and having a positive outlook on things, and Soeren Palumbo, who spoke about how he started the Spread the Word to End the Word Campaign and how each and every one of us can make a difference. Each speaker fanned the fire within us to make a real difference in our communities for those with disabilities.
Being a Program Manager, I had the pleasure to work with our other PM, Kate Slattery, to help facilitate lessons and discussions for the high school students. Throughout our time teaching about inclusion, People-First Language and effective ways to run their chapters, I was struck at how engaged and motivated each of these students are. They asked meaningful questions and looked for ways to improve their chapters and become more inclusive. As John F. Kennedy said, "One person can make a difference, and everyone should try." It was clear to me each of these students is determined to make a difference in our world.
I was lucky enough to be able to sit and speak one-on-one with some of our students over the weekend and learn why Best Buddies means to much to them—listening to their passion and drive to continue working for people with disabilities goes to show what incredible leaders they are. While this weekend I taught them, I felt as though I walked away having learned more from the students. Returning home, I know Best Buddies WI is in good hands and look forward to working with these incredible students.
In Friendship,
McKenna Carrigan
Program Manager-Community Engagement

For more pictures of all our fun, check out our album on Facebook!
Special thanks to the following companies for generously donating items to include in our LC Goodie Bags for our attendees:
ManpowerGroup
Milwaukee Bucks Community Foundation
Meijer Supermarket Company
Pick' n Save
Metro Market
Badger Balm
Goddess Garden Organics
Lewis University
Rangam Consultants