Best Buddies Leadership Breakfast Raises More than $85,000 in Wisconsin
On Thursday, October 26, 2017, we hosted our annual Best Buddies Leadership Breakfast at The Pfister Hotel in Milwaukee.  It was an incredible and inspiring morning where more than 260 of our friends and supporters joined us in celebration.  The event raised more than $85,000, which will be used to support our friendship and leadership development programs in Wisconsin.
Thank you to our sponsors and table hosts!
Presenting Sponsor – ManpowerGroup
Gold Sponsors – WaterStone Bank, Associated Bank, Marcus Hotels & Resorts and Children's Hospital of Wisconsin
Silver Sponsors – Godfrey & Kahn, BMO Harris Bank, Goldman Sachs, RSM US LLP, Froedtert & Medical College of Wisconsin, Northwestern Mutual, Fiduciary Management, and Rangam Consultants
Table hosts – The Institute for Corporate Productivity, The Van Handel Family, Crescent Grove Advisors, Milwaukee Bucks, Generac, Madeleine & David Lubar, Missy Burback & Burback Builders, Artos Engineering, Badger Meter, and Goodwill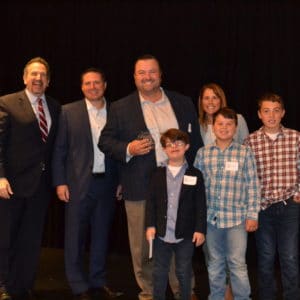 We kicked off the program with our State Director, Courtney Rogazcewski, as she shared some of the highlights and successes of the past year for Best Buddies in Wisconsin.
The Van Handel Family Spirit of Inclusion – Community Leader Award was presented to longtime supporter Don Weber of New Resources Consulting. In 2010, Don connected his personal passion with his professional life by making Best Buddies the beneficiary of New Resources' annual charity golf outing.  As a result, New Resources has contributed more than $30,000 over the past seven years to our efforts in Wisconsin.
Don believes that people of all abilities should have the same opportunities the rest of us do to contribute to society in a significant way, something that he has tirelessly advocated for in his community. From serving as Board Chair on the Best Buddies Advisory Board from 2010-2015, to participating in the Best Buddies Challenge bike rides, as well as supporting local Best Buddies' events, Don is the true definition of selflessness.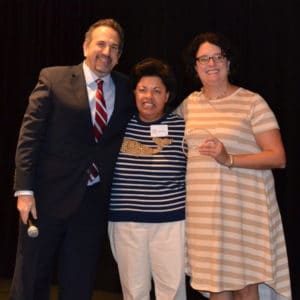 The Spirit of Inclusion – Participant Award is presented annually to a participant or Best Buddies alum who exemplifies leadership qualities and has dedicated their time to the disabilities rights movement. This year, it was presented to Citizens participant Stephanie Graham. Steph and her buddy, Becky, were Wisconsin's first Citizens match. Beyond her exemplary friendship with Becky, she has served as an incredible advocate for Best Buddies over the past four years.
From supporting the annual Best Buddies Friendship Walk, to volunteering at the Golf Outing and being a regular at the bimonthly Citizens group social events, Steph has truly committed so much of herself to fostering inclusion in all aspects of her life.
A fantastic example of Steph's leadership and character came to fruition this year when she led efforts to create a partnership between her employer, Steinhafels, and Best Buddies.  Steinhafels is now a proud sponsor of six local school friendship programs.  Without Steph's passion and involvement with Best Buddies, this would have never been possible.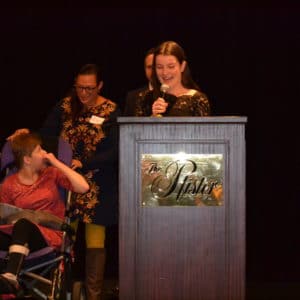 Finally, our keynote speakers were Ava Lemke & Tatyana Spidell, an exceptional buddy pair from Oak Creek High School who spoke about their experience in Best Buddies.  Their friendship is special (as are all of those involved in Best Buddies!), but unique in that Taty is nonverbal.  To help describe how their friendship has impacted Taty, her mother, Magaly, spoke on her behalf.
Magaly mentioned that life without Best Buddies would never have allowed them to gain the many positive memories that they share as a family.  There wasn't a dry eye in the house when Ava finished speaking.  She noted that when she joined the program she didn't expect the profound difference Taty would have in her life.
Many thanks to all of those who joined us on October 26!  Mark your calendar for the next Best Buddies Leadership Breakfast, happening on November 1, 2018!