Trinity Hogben and Megan Phelps
Friendship Program Participants
"Where do I even begin? Best Buddies has opened so many doors for me – but most importantly, it has shown me the road to inclusion and friendship. I have met my lifelong best friend, Megan.
In seventh grade during gym class, I noticed a girl about my height with long dirty blonde hair that always seemed to be off on her own. That day, I decided to go over and talk to her. This girl was not ordinary, she was extraordinary. She was shy and quiet at first but once I got to know her, she was a bundle of energy, light and positivity. I did notice, though, that she didn't speak. Later on, I would find out that she could talk but chose not to. Megan has what is known as selective mutism autism. She chooses not to talk in public places due to her social anxiety. This disability does not define her, it is only a part of her story. Getting to know her more and more everyday was so much fun. As our friendship grew, I discovered Best Buddies. We joined Best Buddies together and never did we think a single club could impact us so much.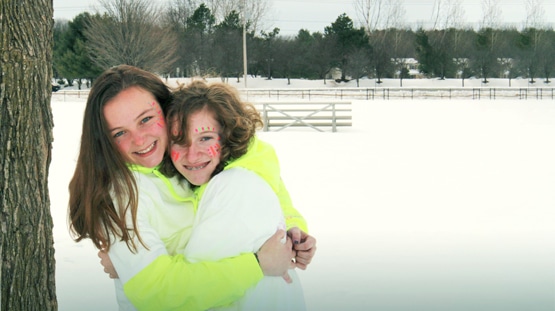 We walked across the stage together on the day of our eighth grade graduation, we entered high school together, and have been through everything life has thrown us – together. Before I met Megan, I never knew how incomplete my heart was. Megan was that last puzzle piece to my heart. Whenever we can, we are together. See me texting on my phone? I'm probably texting Megan. See pictures of me on social media? Guaranteed they are with Megan.
A few words from my best buddy, but most importantly my best friend: "Best Buddies has helped me gain friendships and experiences that I never had before. Before I met Trinity, I was very lonely. Since Trinity and I met we are best friends, we love to spend time together doing fun things. I get to participate in more activities than I did before. I am included – I love Trinity and I'm glad she is my best friend.
My love for Megan grows and grows day by day. We are so close that she has started talking to me outside of school. After joining Best Buddies, I realized how many people in the world were looking for the Megan to their Trinity. Best Buddies allows everyone to have a friend, no matter who you are or what you are capable of.
Being the person who puts a smile on someone's face is definitely the best feeling ever."– Trinity Hogben