Brittany Hunt and Katherine Devine
Friendship program - Colleges
Brittany and Katherine are members of the Best Buddies College program at Western Kentucky University. They were matched in the Fall of 2012, but their connection dates back many years, as these two have attended the same church since childhood.
Brittany is a strong self-advocate, and an active member of the Bowling Green, Kentucky community. Her peer buddy, Katherine, has always had a passion for engaging people with disabilities, after losing her older brother to a disability years ago. Their connection is extra meaningful, as Brittany is one of Katherine's only current friends who knew her brother and they enjoy sharing their memories of Paul together. Katherine was generous enough to share the story of how her amazing friendship with Brittany developed: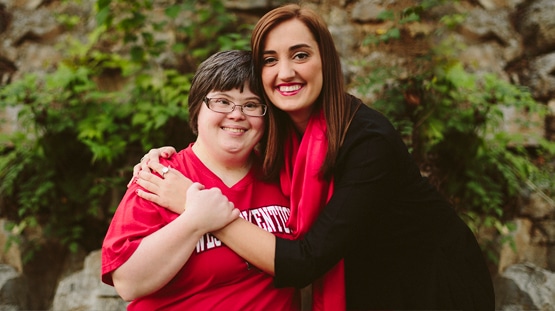 "I was in college for a year before I joined Best Buddies. During my freshman year, when I was not a part of Best Buddies, life was certainly different for me than it was after I joined the program. I had been a peer tutor at my high school senior year, so when I came to college I found myself often missing the individuals that I had gotten to know in the special education classroom. I knew I needed to find a way I could form those same types of friendships I'd had in high school.
School was often monotonous and I felt as though I hadn't really found my niche.
My passion for those with disabilities has been instilled in me throughout my entire life and is a key part of the person I am. I was born into a family in which I was blessed with an awesome big brother named Paul. He was born with a chromosome abnormality on account of which he was unable to talk or walk, had decreased eyesight, significant cognitive delays, and other health related issues. These disabilities presented very real problems for my brother and were things he fought to deal with his entire life, but they did not define the person that he was. The person that he was, more than any disability, is what truly made his life extraordinary. My brother was someone who needed no specific reason to laugh besides just straight up happiness, someone whose heart was filled with an innocence and goodness that is nearly impossible to find in this crazy world, someone whose smile could make you forget when you were having a bad day, someone who loved people unconditionally and with no exceptions, someone whose little sister looked up to him more than he could ever know. In 2006, God decided that He needed that smile, that laughter, that goodness, and that lovingness with Him in Heaven when Paul passed away. This was by far the hardest thing I've ever had to face. I knew at this point that I had two options, to get bitter or get better, and I ultimately decided on the latter of the two. I decided to take the life experience and insight I had gained from growing up with Paul and use that to form relationships with others with disabilities.
Best Buddies has provided me a way to attain and strengthen these types of relationships, which has brought me so much happiness. I decided to honor my brother's memory by being an advocate for those with disabilities, in a society where these individuals tend to be overlooked and misunderstood. Best Buddies has given me an outlet to embrace my passion and a means of showing others the importance of inclusion of those with disabilities. Anyone who does not have someone with disabilities in their life is missing out on a friendship, a whole lot of fun, and a huge sense of happiness.
Brittany is 32 years old. She loves taking pictures, scrapbooking, singing hymns at church, dancing, cheerleading, talking to anyone and everyone and celebrating birthdays. She has Down syndrome and loves advocating for inclusion. I have known Brittany since we began going to church together when I was just 10 years old. She would often go out to eat with my family and I after church and we got to know each other pretty well over a span of time. At this point, I don't remember a time that Brittany wasn't a part of my life. When I joined Best Buddies, Brittany made it clear that she wanted to be paired with me. We have been paired together ever since, as this is our third year in a friendship match! One very meaningful thing about my friendship with Brittany is that she is one of my only friends who knew my brother, who passed away when I was 13. Brittany will bring Paul up to me often and even remembers when his birthday is, which I appreciate.
Brittany and I enjoy sitting by each other at church, going out to eat together, singing in the car together, going bowling, going to visit my grandmother, running errands together, and attending any function where we can dance! I am grateful to Best Buddies for allowing Brittany and I the opportunity to strengthen the friendship that we had prior to being involved in the organization. Brittany has brought so much laughter and fun into my life. I will always cherish these years I have had with her. This is my last year being a part of Best Buddies at my college chapter, as I am a senior, but I know my friendship with Brittany is far from over."