School Friendship: Madeira and Langley High Schools

At our Spread the Word to End the Word duct tape challenge on Thursday, we asked Madeira community members to write why they were pledging to stop the use of the word "retard(ed)" — the R-word. Responses included "because everyone deserves respect," "because there are so many other words that you can use," "because it never does any good," and "for my sister."
For the past two years, Madeira has held a school-wide duct tape challenge to raise awareness for the Spread the Word to End the Word campaign. In the challenge, faculty members volunteer to stand on chairs against a wall while students who have pledged to stop using the R-word get to duct tape them to it. After about twenty minutes we remove the chairs from under the teachers and hope that they have enough duct tape on them to stick to the wall!
To be a success, the challenge requires the participation of the entire Madeira community. The more students that pledge, the more tape we can get on the teachers that volunteered themselves, and ultimately the more likely it is that the teachers will stick. Just like the elimination of the R-word from our community's vocabulary, this challenge needs great contribution from the community.
It has been amazing to watch the challenge, and subsequent awareness about the Spread the Word to End the Word campaign, grow the past two years. Seeing favorite faculty members taped against a wall with their feet dangling really draws attention to the campaign and the absurd image of this event serves as a yearlong reminder to live out the campaign's mission beyond its official celebration every March.
–Karina Atkins, Madeira CP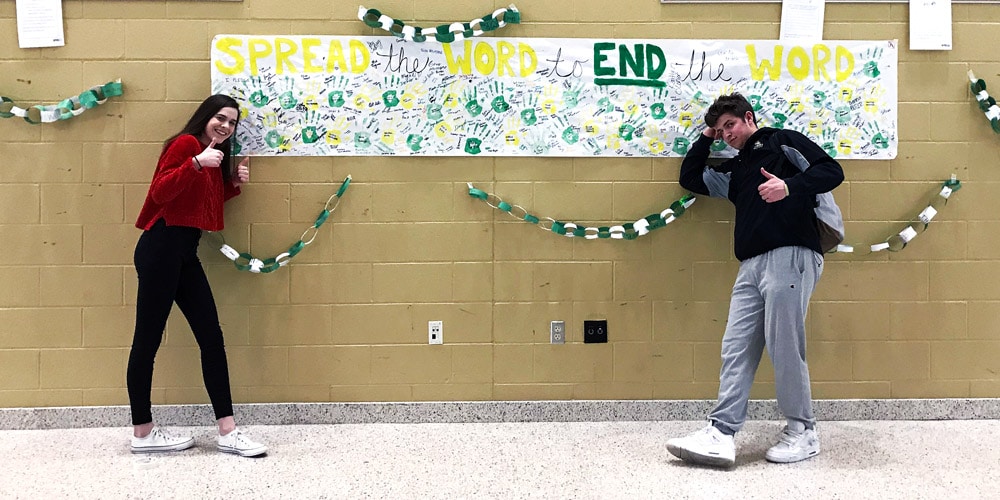 Spread the Word to End the Word is an initiative to stop the use of the r-word in everyday life. It is so important for kids to not hear their disabilities as an insult someone calls their friend in the hallway. Not only is it wrong but it's hurtful and derogatory to them and their friends and family.
For Spread the Word to End the Word we decided to do a pledge banner and paper chain links to decorate the school. We had a meeting on Spread the Word Day and everyone wrote things that they love about Best Buddies, what best Buddies means to them or who they pledge for on a slip of paper. We then stapled the slips together into chain links to show the unity and connection between the general and special education students and we hung them up around the school for everyone to see to raise awareness for Spread the Word to End the Word! It is so amazing to be a part of an organization like this, and even more amazing to know you're making a difference for people by promoting inclusion and changing the way people view developmental disabilities.
My favorite part of Best Buddies is the people I've met through Best Buddies, especially my buddy Amar. Amar and I are so alike it's crazy and I was so lucky to get paired with him. We both love superheroes and video games, we both loving joking around and watching movies and dancing. He's also so funny there's never a dull moment with him. His love for Selena Gomez is something fun I always tease him about and it's so funny to see him blush and go "Brennnnnaaaaaa". We just always have a great time together and I'm so lucky and thankful to have him in my life. Although I love Amar, we do get annoyed at each other from time to time just like any friends would. My bond with Amar is so so strong, but the awesome thing with Best Buddies is that I've also come to form a strong bond with all the other buddies as well. They are all so accepting and they love to just hang out with you and it's always so fun no matter who I'm with.
–Brenna Butler, Langley CP
Spread the Word to End the Word is to stop people from being mean and saying mean things about people who are like me. It is important because when people say those things it's mean and it makes me very sad. My favorite part of best buddies is Brenna because she's awesome and I care about her. All the meetings we do are really fun too and I like all the friends I have made through best buddies.
–Amar Malik, Buddy at Langley
Today, I went to the Spread the Word event during patriot period. It was fun I saw all my friends. I like the event because it is interesting to learn. Spread the Word is important because it helps out people not to say the R word which is mean, and offensive to everyone. Go Best Buddies!
–Alex Keith, Yorktown HS